In the spirit of full disclosure, I will admit that October is not a good month for me: I scare easily.  When I was a kid, reading a Nancy Drew mystery under the covers at night by flashlight was enough to set my heart racing.  (No, Nancy!  Don't go upstairs when you hear mysterious  footsteps overhead!  Call 911 and GET OUT OF THE HOUSE!) The movies Poltergeist and The Blair Witch Project scared me out of my mind.  And I have been known on one occasion to be found sitting in my car in the driveway in my nightgown after hearing strange voices in my house.  (We were picking up someone else's channel through the baby monitor.  My husband was just glad I called him home from work rather than calling the police.)
So you might not find me browsing the shelves of East Side Books Horror Section (ALL HORROR BOOK ON SALE FOR THE MONTH OF OCTOBER), and I admit, I have only read one of Stephen King's novels.  It was for a book club and I read it so fast the words blurred as my heart beat a million miles an hour.  There was something about a missing arm and an evil spirit in a bottle and twin girl ghostS that kept showing up and leaving wet footsteps.  It was weird and creepy.  I know, I know, King is a master of his genre–I don't dispute his skill or his fan base (and King's book On Writing is one of my favorites.  See the blog "So You Want to Be A Writer."), but I would like to point out that before there was King and all his bestsellers, there was Poe.
One of the earliest and best horror writers of all time is Edgar Allan Poe .  Unlike King, Poe was not a happy or successful man.  His short life (1809-1849) was filled with drug and alcohol abuse, mental instability, and the deaths of loved ones.  His work was often rejected and criticized despite the fact that years later he would be recognized as a brilliant writer of gothic short stories and poems.  Obsessed with death and bodily decomposition, Poe often wrote from the point of view of a murdering narrator.  Two of his most frightening stories are The Cask of Amontillade and The Tell-Tale Heart.  I mean F-R-I-G-H-T-E-N-I-N-G. I don't want to give anything away, but let's just say that Poe delves into the horrors of being buried alive and the possibility of dismembered body parts coming back to life.  Even Poe's own death is shrouded in mystery.  He died a few days after being found unconscious on a city street, and the cause of death remains unclear.  Theories range from alcohol abuse to murder to rabies.  For a good scare, check out Poe's collected work in the Fiction Section and Poetry Section.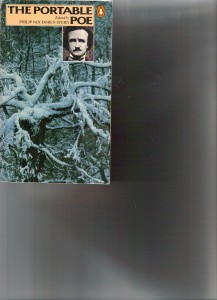 As much as Poe and King are the reigning royalty of horror writing, for me to be scared silly, I don't need all those blood and guts details spelled out.  What I need is just a hint of possibility, the anticipation of something or someone jumping out from behind the curtains or a thumping coming from a seemingly empty room, to send me into a complete fright.   And that is what I love about the following three authors.  These writers brilliantly craft an atmosphere of fear and chilling anticipation allowing the imagination of their characters and readers to create their own worst nightmares.  If you haven't read these classics, you are in for a treat.
Wilkie Collins is the author of The Moonstone and The Woman in White. Despite being burdened with an unfortunate first name, Collin's work, The Moonstone, has been called by T.S. Eliot "the first and greatest English detective novel" and is an excellent book.  But it is The Woman in White, published in 1859, that is filled with chilling plot twists and turns.  A midnight encounter with a woman in white leads the main character into a tangled web of crime, poison, and kidnapping.  A classic Victorian thriller, Wilkie's The Woman In White is complex and sure to raise the hair on the back on your neck.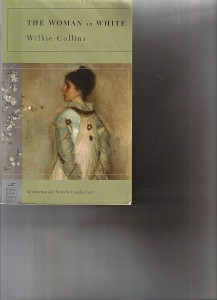 The author Henry James is mostly known for his famous siblings, Alice and William, and his eloquent novels about the social standing of his characters, most notably, Daisy Miller, Portrait of a Lady, and The Wings of the Dove. But it is James' gothic Victorian novella that has been called "the world's greatest ghost story."  Turn of the Screw is the story of a governess who tries to protect her young charges from the evil apparitions that begin to haunt the estate.  But are the ghost real? Is the governess suffering from delusions? Are the children able to see the ghost or are they being possessed by them?  James spins a frightening tale of suspense and terror.  Find Turn of the Screw shelved in the Fiction Section.
If you are wanting more modern spine chilling tale, check out The Haunting of Hill House by Shirley Jackson, author of the famous short story The Lottery.  In this novel, a professor of the paranormal and three young volunteers explore the supernatural phenomenons of Hill House.  Jackson steadily builds the suspense to a frightening and powerful conclusion.  I was completely absorbed by Jackson's story and at the same time completely freaked out. Stephen King calls The Haunting of Hill House "one of the finest horror stories of the late 20th century."  This is a classic you definitely want to pick up today.
My girls are at the age where they have discovered Nancy Drew.  (Check out our extensive Nancy Drew collection in the Children's Mystery Series Section.)  Instead of reading under the covers, they snuggle up with their dad on the couch and he reads a chapter a night.  There is much giggling at the funny voices their father uses for the dialogue, and there is ongoing speculation over clues as the mystery unfolds.  Twinset sweaters aside, Nancy is still entertaining.  And she still doesn't heed my warnings not to proceed down the dark hidden passageways with just a flashlight.  Even all these years later, Nancy is braver than me.
If you have any trouble finding the above mentioned books, please ask one of our staff for assistance.  We can also place a special order or put your requested title on our Wants List.