Every reader has a guilty pleasure when it comes to books. Some sneak in bodice ripping romances when no one is looking; some won't board an airplane without a mystery about a cat detective or a cook who solves mysteries or better yet, a cooking cat sleuth; and some buys stacks of cheap sci-fi for those days when an escape from reality is needed.  My guilty reading pleasure is young adult fiction–novels written for junior high and high school students.  Strange choice for me since I tend to think of 13 through 18 as "the dark years" and have yet to attend a high school reunion.  During those years all I wanted to do was grow up, but now I find myself in an empty parking lot trading a popular teenage series covered with brown paper so no one can see with a well-read friend.
While I admit to being completely sucked into the Twilight series despite the never ending teenage angst and the disgustingly co-dependent relationship of the main characters, much of the new teen lit out there today is highly readable and amazingly sophisticated, taking on issues of environmental armageddon, power struggles between good and evil, and Robin Hood themes of the poor triumphing over the rich.  The main characters are unlikely heros and heroines who fight their battles with integrity, intelligence, and sheer grit.  To see what I mean, check out The Hunger Games, Catching Fire, and Mockingjay, a powerful trilogy by Suzanne Collins.
Books written for teens are receiving a lot of attention lately.  The New York Times Book Review and other publications are printing article after article citing this new popularity of adults reading young adult lit. There is even a new term out there to describe these popular books: Crossover Young Adult Fiction. The exploding interest in teen novels can be traced back to J.K. Rowling and her Harry Potter series.   She was responsible for igniting the reading fire in several generations of new readers as well as stirring a forgotten longing in adults for the magical world of imagination.  When Harry Potter and the Deathly Hallows was published, the seventh and last in the Potter series, there was speculation that the end of the series would create a vacuum in the publishing world.  Fortunately for all of us, this wasn't the case as a whole new crew of talented authors stepped up to satiate the growing appetite for literature that is immediate, high energy, and often fanciful.
Our shelves at East Side Books are teeming with quality young adult novels just waiting for you to crossover and give them a read.  A wonderful place to start is The Looking Glass Wars series by Frank Beddor.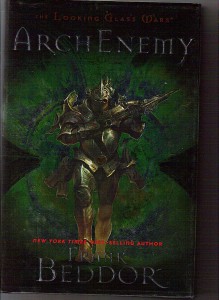 This series puts a whole new clever spin on Lewis Caroll's famous work Alice in Wonderland. I also suggest you check out Christopher Paolini's Eragon adventure series, which he self-published and promoted until it was picked up three years later by Alfred A. Knolf.  Cornelia Funke (now isn't that a great writing name) has gained popularity lately with her breakout bestsellers Inkheart, Inkspell, and The Thief Lord. Although written for the 10 to 15 year old age group, Funkes books are enjoyed by all and described as "magical, with characters who literally leap from the page."  If you are looking for something a little lighter, search out the Sisterhood of the Traveling Pants series by Ann Brashares, the story of four friends and a pair of…well…magical pants.  Despite the silly sounding premise, Brashares work is surprisingly fresh and absorbing. So much so that movies have been made from the first two books.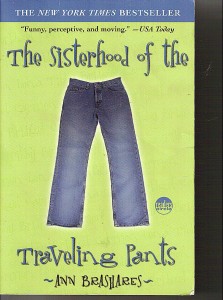 Even established authors of adult fiction are jumping aboard the Young Adult ship.  Alice Hoffman, best known for her Oprah Book Selection Here on Earth and Practical Magic which was made into a movie, is also the author of several teen novels including Green Angel, The Foretelling, and Incantation.  Hoot by well known journalist and novelist Carl Hiaasen is a Newbery Honor Book and spent 2 years on the New York Times Bestseller List.  Terry Pratchett, Clive Cussler, and James Patterson all have young adult novels on their list of credits.  Another successful crossover author is British novelist Neil Gaimen.  You may not recognize his name, but you have probably hear of his creepy and slightly off kilter young adult novels Neverwhere, The Graveyard, and Coraline, which was made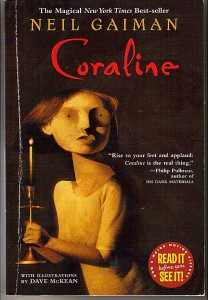 into a popular movie.
Please stop by and check out any and all of the forementioned titles.  Just pretend you are buying them for your favorite teenager.  If you need any assistance in your search, please don't hesitate to ask one of our staff members and we'll be happy to help you.