The last time I golfed, I was twelve years old. My mother entered me in a two-day children's golf tournament held at the local country club. At the time, I happened to be "going with" the golf pro's son–the tan and blond Payson Moreland–but our couple status did not help my golf swing. At the end of the first day, my score was 112. For nine holes. That's 12.44 strokes per hole. Despite the fact that I was one of the oldest participants, I had the worst score. I knew this because the results were posted on a huge sign outside the pro shop. Payson wore a pained expression as he endured teasing from peers and adults alike that maybe he needed to give his "girlfriend" some pointers. The long day in the sun and the frustration of trying to get that stupid little ball in the stupid little hole took its toll.  As I rode my bike home, I cried so hard I could hardly see.
But despite my tears, my mother made me go back the next day to finish the tournament, the parental duty of making sure I didn't grow up to become a "quitter."  The second day my score was slightly better–109. That is 12.11 strokes per hole. I vowed to never step on a golf course again. Needless to say, my relationship with Payson could not endure the strain, and we "broke up" a few weeks later.
It is too bad I didn't have the resources found at East Side Books to help me with my golfing strife. Our shelf of golfing tomes might have prevented my lifelong aversion to the game.
The book that might have come in the most handy would have been Golf Fore!! Kids by Stephen Ruthenberg.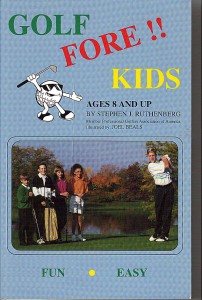 This how-to book gives the ins and outs of teaching kids the game of golf.  Of course, I definitely would have benefited from taking in a few pages of Golfing for Dummies by Gary McCord, CBS commentator. He describes something called a "potato chip drill" that is suppose to revolutionize the reader's swing.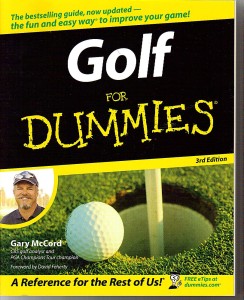 Sometimes the best way to learn about a sport is to defer to the experts. We suggest you check out our copies of The Game for a Lifetime by Harvey Penick, one of America's most famous golf coaches, and I Call the Shots by Johnny Miller, former U.S. Open and British Open champion.  And despite my rocky relationship with golf, the sport has a rich history as told in The American Golfer edited by Charles Price. The photos sprinkled throughout tell a story in and of themselves.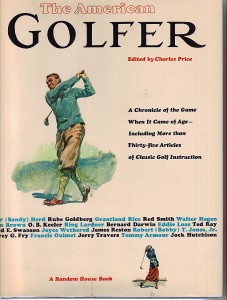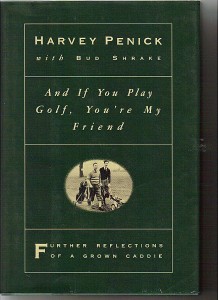 For a bit of a laugh, check out The Bathroom Golf Book by The Bathroom Library. It is a collection of quips and quizzes about the game of golf. The strangest, but most interesting golfing reference we have is called Murder of Course by Denis J. Harrington, a golfing themed combination mystery/puzzle. Kind of makes you wonder how that whole idea came to fruition, but somehow, it works, and won't be on the shelves for long.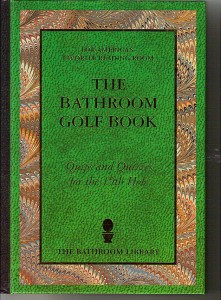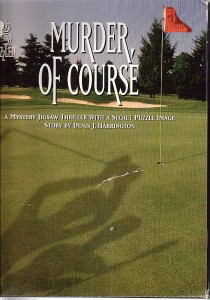 Even if I couldn't help but be interested in the book 500 Years of Golf Balls: A History and Collectors Guide by John F. Hotchkiss. Did you know that some rare golf balls are worth $20,000?!?! (I hope it wasn't one of the balls I hit into the trees during my golfing debut.) Hotchkiss also includes information about the evolution of the golf ball.
Maybe, with a little help from East Side Books, I will give that golf swing of mine another chance. I'll meet you on the green (or more likely in the Clubhouse) after you stop by East Side Books and pick out some golfing books for yourself.
Added by Diane:
Unlike Melissa's rich legacy with the game, I have never been closer to a golf course (not labeled miniature in any case) than my friend's wedding reception at the club house.  So I really know nothing about the sport.  I do know that golfers are a literate bunch and our shelves are stuffed!  Some big names in literature write about golf, and keep writing about golf.  The humorous Floridian mystery writer, Carl Hiaasan, for example, in The Downhill Lie.  My son's favorite sports writer, Rick Reilly, from Sports Illustrated fame, must devote at least half of his career to golf, including the S.I book Golf now on our shelf. (I think he spends another quarter of his time dissing cheerleaders…is there a connection?)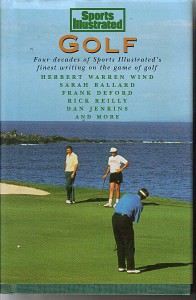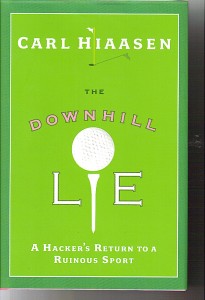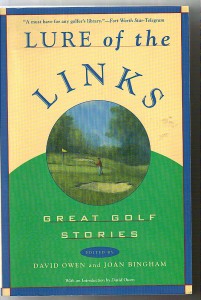 The other unique thing about the sport, besides bad puns?  There is a whole sub-genre of books on the spiritual links (see?) between the green and the player.  Really.  And again, big names writing on the topic.  James Dodson, M. Scott Peck, Mark Frost.  If you are a golf aficionado, maybe you already know these things, and the wonderful writing of these authors will reinforce your understanding.  Or maybe, like me, you had no clue and these titles make you wonder….  In either case, the golf books, from humorous to spiritual, are on sale in March, and now is the perfect time to check them out!
Touring golf courses in Scotland and Ireland – could be my spiritual connection to the game!