Most of us (women anyway) grew up with Nancy Drew (although I confess a preference for  The Hardy Boys myself), but do you remember The Bobbsey Twins, Happy Hollisters, or maybe Trixie Belden or Cherry Ames?  Well the spunky mystery solving girl series are even older than those classics, and we just got a huge batch in of wonderful 1900 to 1930 editions.  We have 18 titles from  The Outdoor Girls by Laura Lee Hope and about ten volumes of  The Campfire Girls series by Hildegard G. Frey.  Numerous other authors wrote for the Campfire Girls, but we only have books by Frey.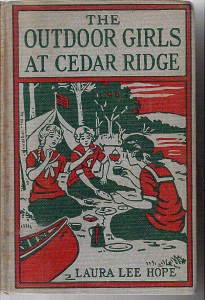 As summarized in Manybooks.com, The Outdoor Girls series is a product of the Stratemeyer Syndicate and was published from 1913 to 1933 by Grosset & Dunlap and focuses on the various activities of a group of girls who form a Camping and Tramping Club.  As a result of the girls' outdoor activities they become known as the "Outdoor Girls" in their city of Deepdale, a city located on the Argono River in New York.  Apparently tramping had a kinder connotation in those decades.  Laura Lee Hope, or the multiple writers using that penname, also wrote the Bobbsey Twins series, and while I have not yet read the Outdoor Girls, I imagine they share a similar sweetness and the demonstrations of good characters with those sets of twins.  The frontis piece art is wonderful, and portray some action packed adventures, in ladylike bloomers of course!  We have 17 great titles to choose from, a few loose hinges and frayed corners, but  generally in good  or good plus condition.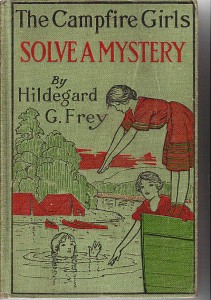 An ad for the Campfire Girls series from Grosset & Dunlap states:
These are the tales of the various adventures participated in by a group of bright, fun-loving, up-to-date girls who have a common bond in their fondness for outdoor life, camping, travel, and adventure.  They are clean and wholesome and free from sensationalism.
I'm not sure how "up to date" these girls will seem now, but they are still charming, and fairly spunky, and apparently clean despite their outdoor lifestyle.  Our 9 copies have a few loose pages, but again are generally in good condition with attractive covers and frontis piece art.  I particularly appreciate the alternate titles, The Campfire Girls Do their Bit, for example, is alternately titled Over the Top with the Winnebagos.  The frontis piece illustration shows a campfire girl rescuing a pilot from a plane crashed into a swamp…Now that title combination is intriguing! Most of these books are priced at $9.00.
Don't you know someone who would love these series?  They are so much fun!