by Clara Place
My class got to go East Side Books for a Field Trip. We went there to learn more about books.
When we got there, we got a tour of East Side Books. Diane is the person who owns the books store, and she gave us the tour. We saw millions of books piled high. After the tour, Diane read us books in the Children's Section. She read us cowboy books. We liked them so much. After Diane read to us, she gave us $4.00 certificates and we got to pick out one or two books to keep. While we picked out books, Diane gave us cookies. And more cookies. And more cookies.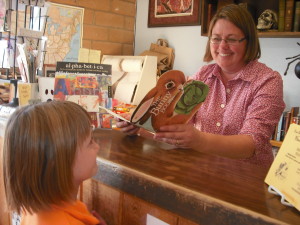 My favorite part of the field trip was when Diane read us books and when we got to pick out books to keep. I like books, and that is why I like East Side Books! There is so much to read there!
Thank you so much, Diane from the First, Second, and Third graders at Bishop Adventist Christian School!