East Side Books is brimming with great books right now in all subject areas and all genres. Here are a few highlights to pique your interest until you can make your way downtown and buy a few of these goodies for yourself.
There is something about chilly weather that makes me want to grab a blanket and a mug of tea and snuggle into the couch with a book of poems. We have some lovely volumes in right now that are not a pleasure to read but visually appealing as well. The slim volume of Favorite Poems of Emily Dickinson is a must have if you adore the woman in white like I do. "This is my letter to the world," she wrote. And you can read it too for only $5.00. If you prefer poems that rhyme, check out our beautiful copy of Evangeline, a book-length poem by Henry Wadsworth Longfellow (a distant relative of yours truly.) This book has lovely illustrations by Howard Chandler Christy that alone are worth the $10.00 price. For something a little more modern, check out the poetry collection Junior College by award-winning California poet Gary Soto. A steal at $3.00. Although plain-spoken and easily understandable, his poems ring with beauty. His poem "Oranges" (not featured in this volume) is one of my favorite poems of all times.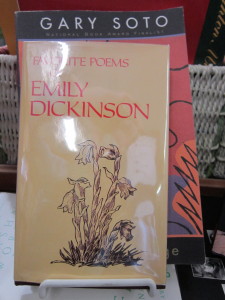 If you are in the baking mood, you will for sure be tempted by our latest cookbook buys. We have two beautiful bread books just in. The Best Bread Ever by Charles Van Over features amazing bread recipes using your food processor. The black and white instructional photos are especially handy. Nancy Silverton's Bread from the La Brea Bakery is a lovely tome that gets to the heart of true, old-fashioned bread baking. Some of the recipes take two to three days to complete, but the photos of the end results, especially the Walnut Bread, look like the effort is well worth it. Both bread books are priced at a mere $10.00, and won't be around for long.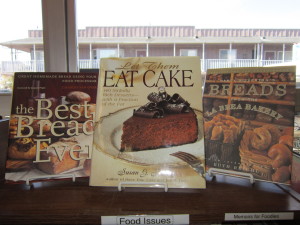 I'm not a dessert person, but even I was tempted by the covers of Let Them Eat Cake by Susan G. Purdy ($10.00) and Desserts to Die For ($12.00) by Marcel Desaulniers Online Blackjack. I think photos make a cookbook, and both these volumes are rich with photos as well as helpful sections such as "The Light Touch" and "The Chef's Touch," which give excellent cooking hints to make your baking experience a sure success.
You don't have to be a teenager to love our latest addition to the Young Adult Section. We have a set of The Inheritance Cycle by Christopher Paolini. Kim, East Side Books employee and mother of two very well-read teen-age boys, recommends this series highly. Paolini wrote Eragon, the first book in the series, when he was just fifteen years old. With help from his parents, he self-published his manuscript and spent two years traveling around the country promoting his book. Eventually Eragon was picked up by Alfred A. Knopf and spent 26 weeks on the New York Times Bestsellers List.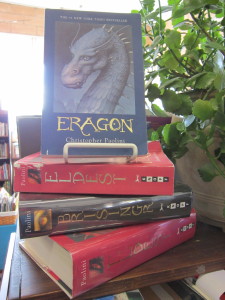 And finally, our Nonfiction Table is loaded with great reads. We have a number of copies of Greg Mortenson's bestseller Three Cups of Tea. You will be inspired by his humanitarian efforts to build schools across Pakistan and Afghanistan. Tracy Kidder is one of the finest writers of nonfiction working today. (Look for his outstanding books Among Schoolchildren and Old Friends on our shelves.) Strength in What Remains is one of his more recent books, and tells the story of Deo, a refugee of Burundi who comes to live in New York City. Kidder chronicles Deo's amazing journey and the people who help him along the way.  Barbara Ehrenreich, author of the eye-opening Nickel and Dimed about her experience working for minimum wage, has a new book out. You can't miss the bright yellow cover of Bright-Side: How Positive Thinking is Undermining America. It is hard not to be intrigued by a title like that, and you are always guaranteed to be challenged and changed after reading anything by Ehrenreich.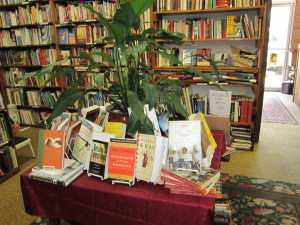 The titles listed above are just the tip of the iceberg of all East Side Books has to offer right now. Come and stock up for winter or beginning your Christmas shopping early. If you need any help locating a title or need a recommendation, please ask one of our staff for assistance. We are always happy to help.