This is a dog loving county. Each morning while walking my own pooch, I see at least a half a dozen or so other walkers out with their furry companions. We have an active Inyo County Animal Resource and Education (ICARE) organization, and Eastern Sierra Dog Rescue was recently founded by dog trainer Nancy Hardy.
With all this dog adoration, it is no surprise the Dog Section at East Side Books is teaming with books about dogs, dog training, and even dog memoirs.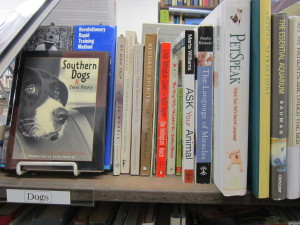 Dog memoirs are a hot new trend. One of the most popular is the bestselling Marley and Me by John Grogan, which was made into a movie. Marley was a Yellow Labrador, and as Grogan tells it, an uncontrollable, crazy, sweet, headache of a dog. When I first read Marley and Me, I had my own Labrador. I could relate. But still, you can't help but laugh aloud at the antics of Marley and his owner, and be touched by the loyalty of their relationship. If you haven't read Marley and Me, pick up a copy today.
We also have dog memoirs by popular writers such as columnist-turned-novelist Anna Quindlen who wrote Good Dog, Stay, and award-winning poet Mark Doty who penned Dog Years.  Willie Morris wrote a dog memoir called My Dog Skip, which was made into a popular movie. I was interested in the title Two Feet, Four Paws by Spud Talbot-Ponsonby who walked the Cialis entire coastline of Britain (4,500 miles total) with her dog Tess in an effort to raise money for homeless people.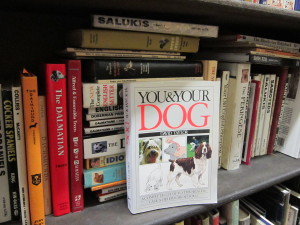 If you have a new dog or your New Year's resolution is to train your dog further, check out our dog handling books. Some of the most popular and long-standing dog training manuals are the books written by the Monks of New Skete. We have copies of both The Art of Raising a Puppy and How to Be Your Dog's Best Friends. I have used both of these with good results (although NOT with the Labrador!) I love the title of John Wright and Judy Lashnits dog training tome: Ain't Misbehavin'. Wright is a renowned pet-behavior consultant with years of experience.
We also have a shelf full of book about specific breeds including Australian Shepherds, Dalmatians, Cocker Spaniels, and Pekingese. If you want to vacation with your dog, we have guidebooks for dog-friendly hikes in Las Vegas, the Bay Area, and Los Angeles. We even have numerous books offering pet traveling tips.
If you love dogs, you should definitely check out Racing in the Rain by Garth Stein.  This novel, which is shelved in our Fiction Section, is told from the perspective of the dog. It is guaranteed to twist your heart strings.
If you or someone you know loves dogs, you would be barking up the right tree if you hurried on down to East Side Books and checked out our Dog Section.