The sky is gray and the days are short. Mid-winter is upon us and spring is yet a far-away dream. You want to escape, but money is tight and time is short. Here at East Side Books, we may not to be able to send you on the trip of your dreams, but we can transport you to far away places for an hour or two.  All you have to do is pick up one of the great travel memoirs in our Travel Memoirs section, and you will be whisked away to a whole new world.
For example, pick up a copy of Bill Bryson's Notes from a Small Island and not only will you know every thing there is to know about England, but you will find yourself laughing aloud at Bryson's witty writing. On a more serious note, you might want to read The Songlines or What Am I Doing Here by Bruce Chatwin who is most well known for his tales of travel.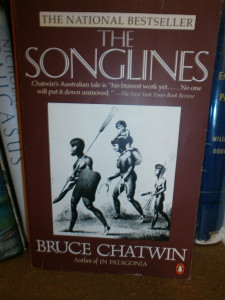 A personal favorite of mine is Under the Tuscan Sun by Frances Mayes. Mayes tells the story of buying a house in Italy and discovers herself along the way. This title was made into a popular movie staring Diane Lane. I was also inspired by One Year Off by David Elliot Cohen. This father of three traveled around the world with his family for twelve months. Their tale was refreshing and, at times, very entertaining.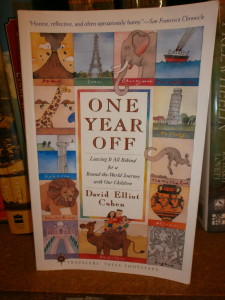 If you are looking for something a little more exotic pick up a copy of The Lost Heart of Asia by Colin Thubron. This author explores the worlds of Uzbekistan, Tajikistan, Turkmenistan, Kazakhstan, and Kirghizstan. Or, for something a little different, read Glynis Ridley's Clara's Grand Tour: Travels with a Rhinoceros in Eighteenth-Century Europe.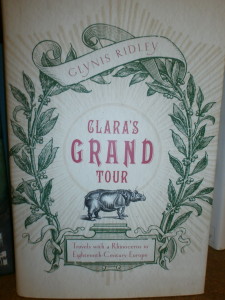 If you want to travel, but don't want someone else's experience shaping your adventure, check out our wide selection of travel guides. We have guides for destinations as far away as Korea and Egypt, and as exotic as Costa Rica and Indonesia. We also have travel guides for most of the fifty states.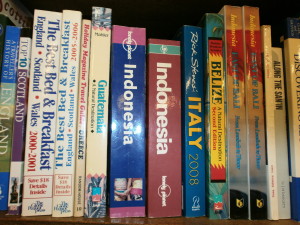 And if you can carve out a day or two of real time travel, check out our California Travel section for guides on quick weekend trips. You can't go wrong with Adventure Guide to Southern California by Don and Marjorie Young, or A Traveler's Guide to Historic California by Lynne Schaefer.
So come on down to East Side Books and plan your travel destination–imaginary or real. If you need any help locating one of these titles, please ask our staff for assistance. Bon Voyage!