When my friend Mary showed up at my doorstep with a copy of To Be Sung Underwater by Tom McNeal clutched to her chest and told me I HAD to read it, I was skeptical. Who was this Tom McNeal? I'd never heard of him, and I read A LOT.  But Mary has a fine eye for excellent writing, so I promised to give McNeal a try.
Let's just say that before I'd even finished To Be Sung Underwater, I was searching online to see what other books McNeal had written. His writing is beautiful and fresh, and the storyline unpredictable to the very last page.  A love story.  A story of growing up and growing away. A story of finding yourself again.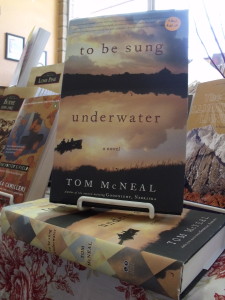 We have two new copies of To Be Sung Underwater on our front table. If you want a great read by the best author you've never heard of, come on down to East Side Books today.