In his book, How God Changes Your Brain, neuroscientist Andrew Newberg writes that the best way to exercise your brain is to practice faith. Faith develops optimism and reduces the stress-eliciting cortisol levels in your body. Psychiatrist Viktor Frankl, who was held in a Nazi concentration for five years, said that faith was the single most important thing that kept a survivor alive. "If a prisoner lost faith in the future, he was doomed, because the will to live seldom returned."
People find their faith in all kinds of places and in all sorts of ways. One source of faith for many is their relationship with God or their church. East Side Books has an extensive Christian section that may offer inspiration and hope for those looking to renew or strengthen their spirituality.
East Side's Christian collection is so extensive that it is divided into a number of different categories such as Christian Theology, Prayer/Devotionals, Saints, and Life of Christ to name a few. We also have Bibles available.
There are a number of books by popular Christian leaders shelved under the category of Christian Living. We have a title by Desmond Tutu called No Future WIthout Forgiveness as well as a number of titles by former President Jimmy Carter. Also on the shelf is Billy Graham's book Peace with God, and several copies of Conversations with God: An Uncommon Dialogue by Neale Donald Walsch.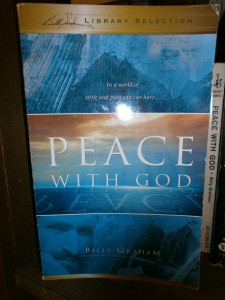 Sometimes it helps to learn about your own faith by reading about the faith journey of others. In the category of Christian/Biography we have a number of interesting Christian memoirs by such diverse writers as Rick Warren and Mary McCarthy. Anne Lamott in her book Plan B: Further Thoughts on Faith puts a humorously yet poignant spin on her day-to-day struggles with faith. Tony Hendra has written an intriguing bestseller entitled Father Joe: The Man Who Saved My Soul.
I have found a number of helpful titles on the shelves containing the categories of Christian Women, Christian Parenting, and Christian Relationship. One of my favorite reads was Mitten Strings for God by Katrina Kenison. Wise and honest, Kenison even shares a number of recipes with her readers. I am intrigued by the book entitled Power of a Positive Mom by Karol Ladd. I also want to check out Sisters Singing: Blessings, Prayers, Art, Songs, Poetry & Sacred Stories by Women.
Our Christian Literature section is housed separately in the Literary room next to the Poetry shelves.  We have a number of titles by popular Christian writers such as Beverley Lewis, Karen Kingsbury, Neta Jackson, and Tracie Peterson.  We also have a large selection of novels by Dr. Tim LaHaye and Jerry B. Jenkins who authored the bestselling Left Behind series.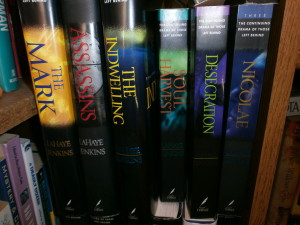 We all can use a little faith-boosting now and then, and I encourage you to browse our large Christian section and see what kind of inspiration you can find.  If you need any assistance, please ask one of our staff.  We are always happy to help.