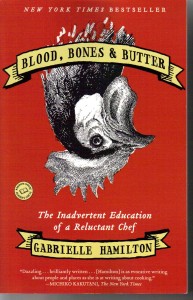 Around the front counter, we love discussing food.  We also have lengthy discussions about growing and eating food that is better for us, better for our country, and tastier, so of course we have strong opinions on food books too!  I could (and might) write about one every day, however the book of the moment is Blood, Bones and Butter by Gabrielle Hamilton. 
Hamilton is a chef who chronicles her journey through many kitchens in Blood, Bones and Butter, before opening her own restaurant in New York called, get this,  Prune!  I want to read it just to see what is on the menu at Prune! All reviewers agree that not only is she adept at describing the foods and cooking, but her writing is "luminous" throughout. 
Chosen recently by a Bishop book club, we have several new copies available for members and others.  We'd be happy to order more as well!
Did I mention that if your book club orders new copies through us, we offer a 15% discount?  What a deal, right?