We have winners!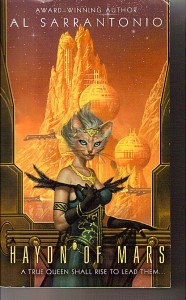 Here is your chosen favorite Sci Fi cover for our May cover art contest – Haydyn Of Mars by Al Sarrantonio.  The cover art is by Matt Stawicki.  Although we picked covers for the competition by what made us smile, it was educational to learn more about the world of science fiction artists and their fans.  Very interesting!
The second place winner was the vintage copy of The Monster Men by Edgar Rice Burroughs.  The publisher, Ace, actually points out their choice of high quality artists for their reprints of Burroughs then out-of-print treasures.  The cover artist for this swamp man masterpiece from 1960 was Frank Frazetta.  Frazetta just died in 2010, and was a famous comic book artist as well as fantasy illustrator.  He has been inducted into at least two related artist Halls of Fame.  (Maybe I should up the price on this one!)  Who knew. 
The last three places went to 3rd place:
 Love Conquers All by Fred Saberhagen and cover art by Bob Adragna (1979).
4th place: Conan and the Sorcerer by Andrew J Offutt and cover art by Sanjulian.  I still think Sanjulian needs anatomy lessons, but it is artistic!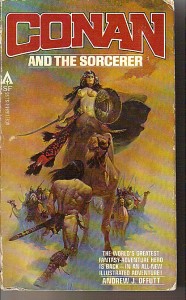 And my favorite, but the customer public's least favorite was the cat people on Firebird by Charles L. Harness.  No cover art credit was provided.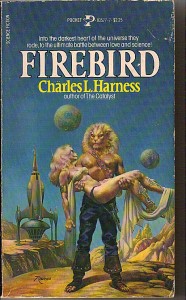 The winners of the gift certificate drawing were Howard Wu (proving that daily entries really do improve your odds) and Marco Sharpe.  Congratulations!