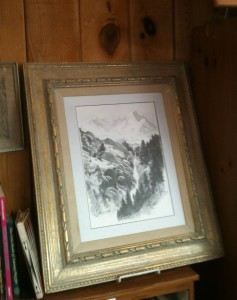 NEWS FLASH!  Those of us who get to enjoy Robert Miller's artworks on the walls at the store every day are terribly excited; the plan to sell prints of some of Robert Miller's popular pencil drawings is well under way!  We expect to have prints available within the next two weeks!  Keep watching, because we are also planning a special reception for our friend and beloved artist Bob towards the end of the month…
Robert Miller is a long time Bishop resident who has spent countless hours hiking the Sierra, although he says he still feels like a Floridian.  Most of his career has been as an architect in South Florida, Southern California and Bishop, and the precision, scale and detail of his art reflects that training.  He has also worked as a paperboy, aircraft maintenance during World War II, gym trainer, golf club designer and many other diverse tasks.  His artwork includes  pastel, sculpture, stained glass, and the most prolific work in pencil and charcoal.  Many Bishop residents will recognize him from the hours he spends daily sketching and drawing outdoors, especially in front of his favorite tree subjects or mountain views.
The works will be high quality giclee  prints sized 11×14, and protected in archival film.  If you would like to preorder copies of any of the works displayed here in the store, let us know right away. 
Watch for more news, coming soon!