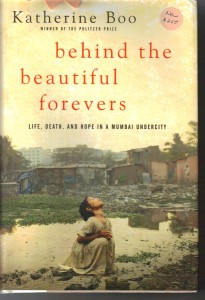 Our favorite "should-be-nearly-local" author Katherine Boo, author of behind the beautiful forevers, Life, Death and Hope in a Mumbai Undercity, just won the National Book Award yesterday for Nonfiction!  Ms. Boo is already a Pulitzer Prize winner, and this is another well deserved honor –  if a book about the harsh realities of picking garbage, burnings and beatings, and corruption can be described as beautifully written, this one is.  Don't let the tough subject matter put you off if you have not read it yet, it truly leaves you in awe of the resilience, fortitude and yes, hope, humans can show in dire circumstances.  And again, the writing is amazing, you will care deeply about the characters and turn the pages as fast as any suspense thriller. 
We currently have three copies, come pick one up in honor of Ms. Boo's award!
FYI, Katherine Boo is not local, may not even have been to the Owens Valley, but she does have family here who first brought the book to our attention and procured a stack of signed copies for East Side Books to sell, which we greatly appreciate!