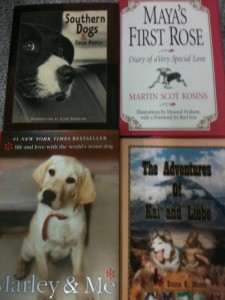 Dog stories take up so much room lately that you may think there is not much left to say, and maybe there isn't.  But anyone who loves dogs cannot possibly have read ALL of these books, so there is bound to be at least one he or she would enjoy, and who doesn't love a good dog story?  I've counted two categories, the memoirs written from the dog's point of view and those about humans and the significant dogs in their lives.
If you are unsure where to start, I'd recommend a dog story by an already recognized talented author – good writing is always a good start!  Pulitzer Prize-Winner Anna Quindlan wrote Good Dog. Stay. as an example that I would love to read since I admire her writing.  We also have Dog is My Co-Pilot, an anthology of great writers on the "world's oldest friendship", A Dog's Life by Peter Mayle, and Uncle Boris in the Yukon and other Shaggy Dog Stories by Daniel Pinkwater which has got to be amusing.  Maya's First Rose is not by an author I recognize, Martin Scot Kosins, but has a foreword by Burl Ives! I want to read that! Of course we also have Dog Stories by James Herriot, the king of animal story writers as far as I'm concerned. Any title by Herriot would be an excellent gift choice. 
From a local author Deborah Mason, we have The Adventures of Kai and Liebe for a fun dog memoir.  Marley & Me  by John Grogan has been an enduring favorite, but you might also want to check out Dreaming in Libro, How a Good Dog Tamed a Bad Woman by Louise Bernikow, or Merle's Door, Lessons from a Freethinking Dog by Ted Kerasote for books that win just for intriguing titles. And for books that give a "scientific" edge to our love affair with dogs, try The Last Chance Dog, And other True Stories of Holistic Animal Healing by Donna Kelleher DVM, or Inside of a Dog, What Dogs See, Smell and Know by Alexandra Horowitz.
There are some great stocking stuffers here, and even more on the shelf!  Of course if you are shopping for a cat person….we can help you out there too!