While selecting books for our shelves, we find SO many romance novel covers that are just, well, over the top and make us smile.  This year, I've been setting aside so many for our favorite contest, that I ended up with SIX contestants.  The common theme, I've decided is the remarkable textiles!  Sure there is a lot of skin, and we know a great dress is essential for a romance heroine, but check out the amazing use of texture on these cover models!
Contest Rules:  You may vote for your favorite COVER (honestly you don't have to read the book), once every visit or once per day on line if you choose.   On February 28, we tally up the votes and declare a winner for the year.  From all the votes, we randomly draw the winner of a $25 gift certificate.  It is definitely your chance to judge a book by the cover!
Here are the contestants:
#1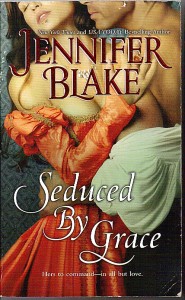 Seduced by Grace by Jennifer Blake – note the lovely orange tapestry in contrast with the billowy white pirate shirt….
#2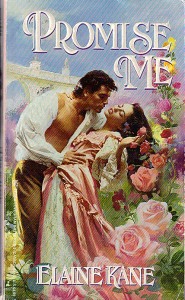 Promise Me by Elaine Kane – another billowy white pirate shirt, paired with a lovely pink satin and white lace gown.  The kicker is the coordinating pink roses though….
#3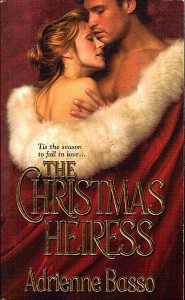 The Christmas Heiress by Adrienne Basso – You may have to see this one in person to appreciate the fur, snuggling up in that is definitely romantic!
#4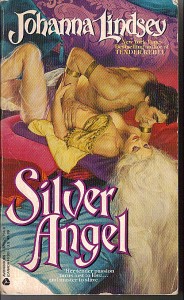 Silver Angel by Johanna Lindsey – A "vintage" cover style for sure, although it is only from 1988!  Love that  platinum blonde hair three miles long, and translucent harem dress…
#5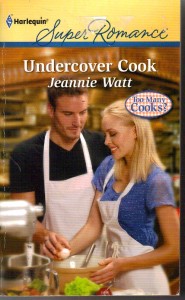 Undercover Cook by Jeannie Watt:  This one is for all of you who think a man (or woman I guess)  is sexiest in an apron –  that is a romantic outfit you can truly appreciate!
#6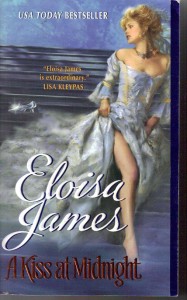 A Kiss at Midnight – by Eloise James :  This one takes the whole Cinderella look to a new level, blue ball gown, glass slipper and all!
Don't forget if all this cover appreciation inspires you, Romance paperbacks are all only $2 in February.  Everyone needs to read a happy ending once in a while, or all the time right?