Summer for my family has always been the most full season of the year – between farm work, garden, and fair animals, my kids know to just quietly relish any down time without a whisper of being bored. They all enjoy reading books for pleasure rather than for school assignments, fishing, and cooking up something yummy, activities that are even more rare during school.   I know other families that  just dread the long days with out school to keep the kids busy.  Where ever you fall on that spectrum, we are stocked up on amazing activity books that offer up interesting, fun and easy activities for summer free time.  Come in and see what's here while they last!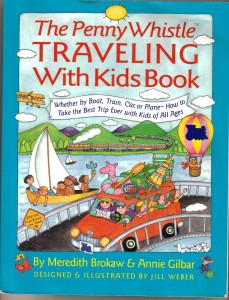 Everyone can relate to bored kids in the back seat on a long road trip – solve that problem with the excellant Penny Whistle Traveling With Kids Book!  From strategies to prevent power struggles, to exercises, to road games, this book has it all.  It is a winner.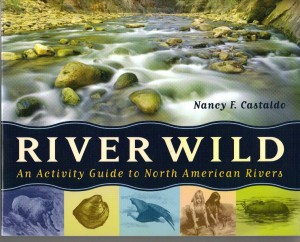 If your travels include a major river, or just tubing down the Owens, this book, River Wild,  has some scientific kid appropriate activities, as well as geography, history, and additional reading resources.  In no way is this dry reading, your family will enjoy building Huck Finn rafts and learning about beaver fur where ever you are this summer.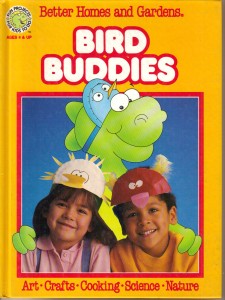 While the cover looks dated, I think you will be impressed as I was with the scope of easy crafts and cooking projects related to birds in this book, Better Homes and Gardens Bird Buddies (plus there are more titles in the series).  Perfectly appropriate for back yard bird watchers or an afternoon with grandma after feeding the ducks at the park, you probably won't even need a special trip to the store for supplies!  I thought there were some great party ideas here as well.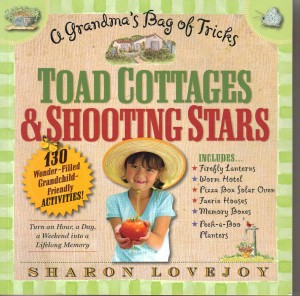 Toad Cottages and Shooting Stars is subtitled A Grandma's Bag of Tricks, and I think all of us would dream of a grandma like author Sharon Lovejoy with this collection of activities up her sleeve!  From observing moths to making beans in a blanket, this book is beautiful, entertaining, and stuffed with fun ideas for nature oriented activities with kids.  Don't pass it up if you are not a grandparent, it is of course perfect for anyone spending time with children this summer!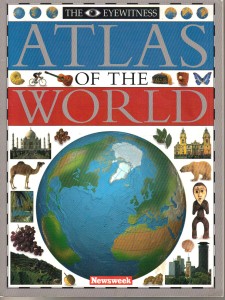 Every kid should have an atlas to plan the ultimate trip, or to track an actual trip, or see where an older cousin is stationed in Japan.  Google maps just doesn't have the same impact as leafing through pages of an atlas, just saying.  This Atlas of the World is from The Eyewitness series by DK Publishers, full of extra information and graphically gorgeous pages.  Eyewitness books are so good they can be appreciated by any age group.
  And lastly, one of my favorites with my children, A Child's Seasonal Treasury from HearthSong.  This book covers all four seasons, not just summer, but like all HearthSong products, it captures the sweet essence of childhood in my opinion.  Poems, cooking activities, songs, crafts and sewing, multi-cultural and holiday stories – makes me want to go borrow a younger child when I thumb through this book again!  Okay, my kids never did cooperate very well with the finger plays, but maybe that borrowed child will… 
Of course there are more to choose from as well, just ask for help if you don't see the shelf!  Happy Summer!