We've celebrated the amazing bodice rippers of romance, and the bizarre cat manifestations of Sci Fi, now it is a chance to "admire" some classic Western cover art!  Vote for your favorite in the store, with a comment here, or on the Facebook page and you could win a $25 gift certificate for ANY type of books or music in the store!  So take a peek, no they are NOT too politically correct, so keep your sense of humor and have some fun with the latest East Side Books cover contest.
And the contestants are:  (there are just so many to choose from!)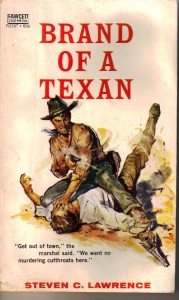 1.     Brand of a Texan by Steven C. Lawrence and published in 1958.  No cover artist noted.  Check the hero holding the bad guy's face!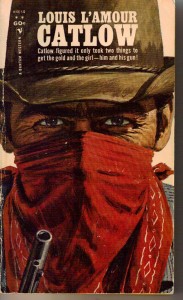 2.     Catlow by Louis L'Amour and published 1969.  Again no cover art credit, but you would not want to be looking down the barrel of this gun!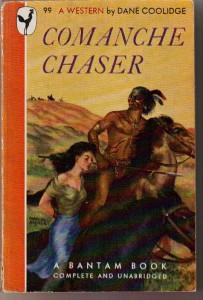 3.     Comanche Chaser by Dane Coolidge, published in 1947.  The preface says Dane Coolidge has never written a more blood-stirring story of the heroism of the old Southwest…clearly the cover is blood stirring!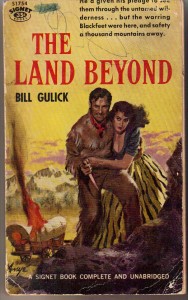 4.     The Land Beyond by Bill Gulick published in 1960.  Movie star material on this cover, and look closely at the burning Conestoga!  Safety is clearly a thousand mountains away!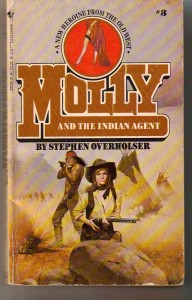 5.  Molly and the Indian Agent by Stephen Overholser published in, get ready, 1982!  ( I thought it was older than that).  Molly is clearly a competant woman, who can handle her guns and her garters.  From the back, you can tell the Indian Agent is the bad guy, which may better indicate the era than this cover art, but our heroine is still worried about her blonde scalp dangling from a Shoshone war belt!  My oh my!
So there are your choices.  You may vote once a day all month if you like.  Just get us the information and a phone number or email so we can contact you if you win!  We tally the votes for to delcare the most loved cover , but the prize drawing is just random from all the entries, and to answer the question in advance, you don't win the book or have to read it if you are not a Western fan.