It really seems I had too many choices for potential covers this year, and what theme should I choose?  Pirates?  Cowboys?  Highlanders?  Another theme became apparent when  the possibilities were laid  out in front of me, clearly the Bad Boys were winners this year!
If you are new to the contest,  the loyal and patient customers of East Side Books vote on their favorite Romance Cover from the choices we've saved from our shelves during the year. Voters earn a  chance to win a $25 gift certificate if their name is drawn from the pot at the end of the month.  In honor of February the Love Month, of course.  And in honor of our $2 Romance Paperback sale, too.  And to laugh with all of you over the choices and tally up the  favorite cover winner.
You really only have to pick your favorite COVER, with consideration for the title if you want, but you DO NOT have to READ the book or KNOW anything about the book or author!  Or you can PRETEND NOT TO KNOW if that makes you more comfortable.  These covers make us smile, and sometimes laugh out loud, so we just want to share the amusement with all of you!
For a new twist, we will offer the winner his or her favorite in case they do want to read it!
Here are the contenders for 2014.  You may vote once per day, and you may vote with a comment here or on the Facebook page if you would like.  Good Luck!
#1
  Seduced by a Rogue by Amanda Scott.  I'm starting off with this one for all of you who either a) Can't vote for too much skin, or b) Think these eyes are sexy, which of course they are, or c) Just like plaid.
#2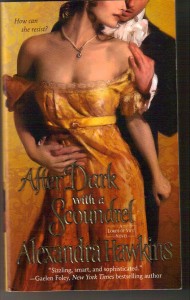 After Dark with a Scoundrel by Alexandra Hawkins is choice number two.  Clearly a Regency era romance judging by that high waisted dress that is almost at her waist,  it is just appealling  in color and layout.  Also the choice for those who appreciate confident heroines.
#3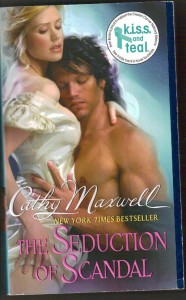 The Seduction of Scandal  by Cathy Maxwell is our third offering.  Do I have to say anything about this heroine in virginal white with the worshipful  bad boy?  I probably can't in any case!
#4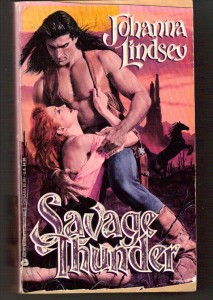 Savage Thunder by Johanna Lindsey is a vintage classic!  Fabio syle hair  on this potentially Native American hero, (exotic AND a bad boy), whose name is, wait for it, Colt Thunder!!   Stallion in the back ground, swooning red head, okay, enough said.
#5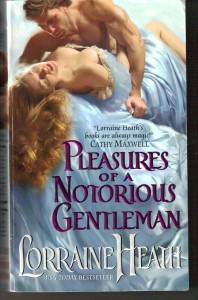 Pleasures of a Notorious Gentleman by Lorraine Heath is our final choice of the year.  Don't you love this sweep of dress and hair?  In case you are wondering, the notorious gentleman is the black sheep second son of an Earl, who is ALSO a returning wounded warrior.  Again, we have multiple themes going on here, complicated by the heroine's own deceptions….(sometimes you have to read the back cover to better appreciate the front cover, right?)
Have fun, and Happy Love Month!
P.S.  If you think this is a lot of skin, I've been getting advertising and promotion ideas from another book store, Old Renton Book Exchange.  Mild in comparison to her Reading is Sexy promotions, but hers look like more fun!