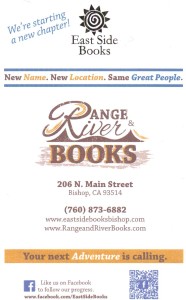 It is true!  East Side Books is starting a new chapter in bookselling for the Eastern Sierra.  We are changing our name and location, and some sales strategies, we'll sell a few more new books and more "other" things for example.   We are keeping our amazing inventory of used titles, your store credit and gift certificate values, our friendly staff, and, of course, our smart and interesting customers who  keep  bookselling in a real store  viable.
Like many of you, I can't help but regret the passing of East Side Books, with the nooks and corners, the big windows, and the lovely trees across the road.  I'm sad to be the owner that has to close that door.  But, I think we'll gain so much in location, foot traffic, participation in downtown Bishop events, parking, and a cool space, that it surpasses the loss.  I'm not the only book seller experiencing dropping sales, but I think with adjustments we can be one of the bookstores that continue to thrive as a valued asset in our community.
I am so grateful for the many offers of moving help (and brownies), and hope to make use of that kind community minded spirit as we get closer to the actual move.  When will that be?  I still can't say for sure as we are waiting for the owners of Raymond's to finish renovating their new space and move out, also a daunting job!  In the meantime, I welcome your comments and suggestions, and would love to speak with local  crafters, cottage food producers, and artists if you have potential items to sell.  I'll keep news of the move posted here and on the Facebook page.  Feel free to call as well if you have questions.
It will be an adventure, please be there with us!.
Regards,
Diane