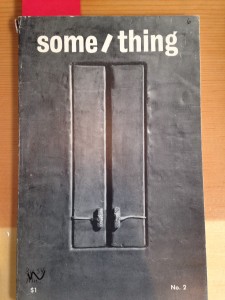 some / thing
Volume One, Number Two
Winter 1965
Published in 1965 by Hawk's Well Press, New York, this collection of mostly poetry (although there are some stretches here) has selections by Ted Berrigan, Margaret Randall, Diane Wakoski, George Brecht, and Jerome Rothenberg (who is also one of the editors), among others. For those with an appreciation of the edge that the Beat generation from the fifties walked, this small book will satisfy the reader with an appreciation of the avant-garde sixties and the continuing experimental literature, performance theatre and conceptual art that proliferated well into the next decade. The cover, in black and white, is a photograph of a sculpture by minimalist Robert Morris.
If you remember the sixties, or desire to learn about an era that was before your time, this book will open doors and stimulate an inquiry into several of these artists, many of whom are still living and creating, and where they took this early period of inspiration and freedom.
Thanks to Bookseller Jill Paydon for this review.  Stop in soon to discuss books with Jill!