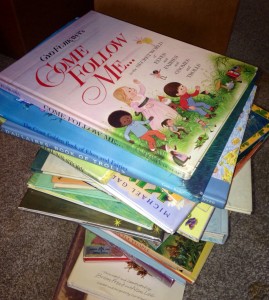 Our annual store Leprechaun Party & Storytime really started as a chance for me to read some magical favorites to more children, since mine won't sit on my lap any longer.   I love reading aloud to eager little listeners!   Every year I haul a large stack of books from my personal shelves to read at story time and never get through even half of them in three hours!  So to improve my own discipline I'm whittling the stack to just 10 (okay 11) must-reads and I thought I would share the list with you too. Obviously the "wee folk" are around throughout the year and there are hundreds of great choices out there.    This selection has an Irish/leprechaun leaning since we are celebrating in March, but the stories are all perfectly appropriate year round, and many celebrate the turning seasons as much as the magic of the little people.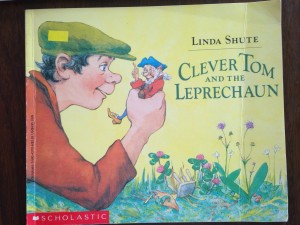 1.    Clever Tom and the Leprechaun by Linda Shute (illustrated by Shute also) (Scholastic)
This is my all time favorite since I started trying an Irish brogue on my kids. (okay it is a terrible accent, but they didn't complain).  Sadly and unexplainably, this Scholastic paperback is out of print and the prices have skyrocketed.  If you have one lying around, treasure it!  It's a retelling of an old story with the leprechaun fooling the greedy young man who never quite realizes he's being tricked.  The humor is subtle and truly clever but the kids see it, and the illustrations are the perfect mix of detailed expression, color, and touches of nature.  A truly great read-aloud.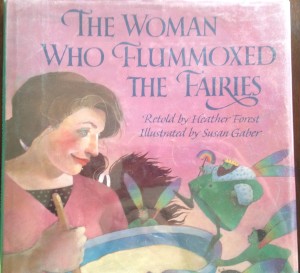 2.    The Woman Who Flummoxed the Fairies retold by Heather Forest, Illustrated by Susan Gaber (Harcourt Brace& Company)
This winner has recently been reprinted, thank heavens.  A Scottish story retold in which the clever young woman tricks the wee folk this time, while baking wonderful cakes and taking care of her babe.  Yay for smart, competent women characters!  It also has wonderful watercolor illustrations with rainbow winged fairies, a little better for on-the-lap reading because the detail is a little small, but the story does fine for a group.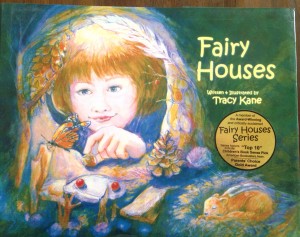 3.     Fairy Houses written & illustrated by Tracy Kane
This is a later addition to my pile, and I have come to appreciate it more and more.  For one thing, the fairy sighting is in Maine, so North America is represented in the magical world which is a rare thing in fairy tales!  The lovely watercolor illustrations include both large and small images, so it works for a group or close-up reading.  Although it is almost too long for restless listeners,  it has a sweet, participatory message and plenty of nature appreciation, which tip the scales towards read-aloud winner.  I love the message that a moment of magic may be worth waiting and working for.  My moment of magic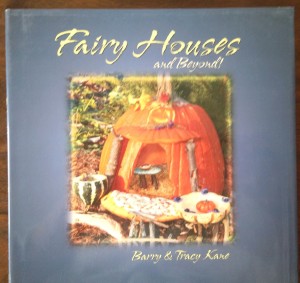 happened when Miss Robin's mom told me she went home to build fairy houses after hearing the story at story time!  There are other books with photographs of built Fairy Houses to complement this story too.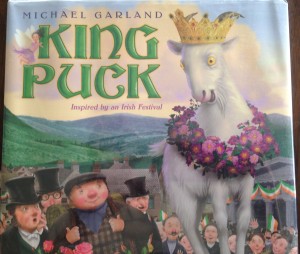 4.    King Puck by Michael Garland (HarperCollins)
The fairies are small but powerful in this adorable story! Magic allows the big-eyed goat to speak, and win the grand prize of course, so what does he pick for his prize?  More stories!  Pure fun to read aloud, even with a bad Irish accent!  Kids will enjoy searching out the tiny fairies on each page too.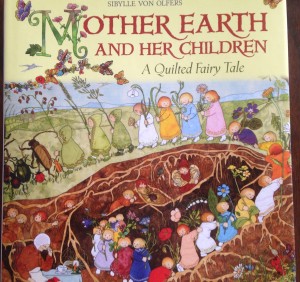 5.    Mother Earth and Her Children, A Quilted Fairy Tale by Sibylle Von Olfers, Illustrations (yes quilted!) by Sieglinde Schoen Smith, and translated by Jack Zipes  (Breckling Press)
A lot of collaboration went into making this lovely book, and I have to quote the book flap to describe it:  "In rhyming verse and vibrant illustrations, Mother Earth and Her Children gently encourages young children to discover the wondrous world of nature just outside".   Yes indeed.  The original story was published by Sister von Olfers in 1906 as one of six popular books.  100 years later, Smith created the amazing quilt that makes up the illustrations of this edition, translated to rhyming English by Zipes…..whew!  Generations of children are not wrong, this is a great story about the turning seasons, but buy this book for yourself even if you have no children.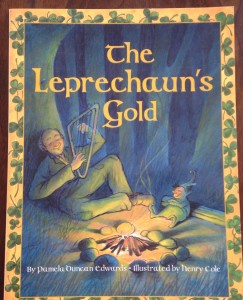 6.    The Leprechaun's Gold by Pamela Duncan Edwards, illustrated by Henry Cole (HarperTrophy)
Plenty of opportunity for changing voices in this story, a good rhythm, plus a good message, makes this a perfect read-aloud.  Generosity and kindness are rewarded, a merry heart rewards those around us, and magic brings it all together.  Funny, expressive illustrations top off an accessible winner.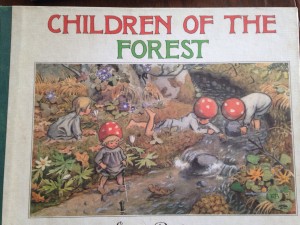 7.    Children of the Forest by Elsa Beskow (Floris Books)
I'm cheating a little here, because only practiced listeners will sit through this longish story with unfamiliar vocabulary and slightly old fashioned language.  But this is the kind of story you want children to be practiced listeners for!  Elsa Beskow has created many treasures, and these little mushroom capped forest fairies are some of my favorites.  Here's a sample:  The days grew shorter and the moon shone bright and cold as a silver coin, cutting little grey shadows in the pine branches and telling all the forest creatures that summer really was at an end.  Mist settled in the hollows like white breath and the children played at leap frog with the rabbits until it was time for bed."  Start young, people, so your babies can appreciate Elsa Beskow.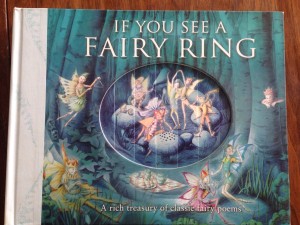 8.    If You See a Fairy Ring Illustrated by Susanna Lockheart (Barron's)
This is a collection of classic fairy poems by the likes of Laura Ingalls Wilder, William Shakespeare, and Robert Graves.  The clever part is the fold out pages which shift the illustration from one scene to another.  It fascinates children of any age.  A great way to appreciate poetry!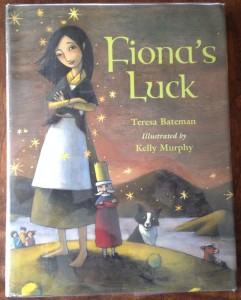 9.    Fiona's Luck by Teresa Bateman  Illustrated by Kelly Murphy (Charlesbridge)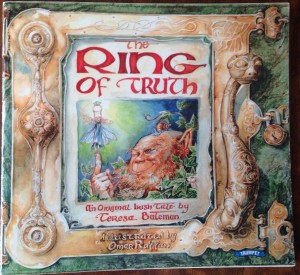 Fiona's story combines a smart woman with a slightly odd message that we make our own luck if there is magical luck to be had.  It works though, and it is a fun read aloud with leprechauns. This is a good choice if you are looking for a St. Patrick's day story for older listeners.  Bateman also wrote The Ring of Truth, a leprechaun story  about greed and blarney, with very magical celtic illustrations by Omar Rayyan.  I could hardly decide which one to include here….so snuck them both in.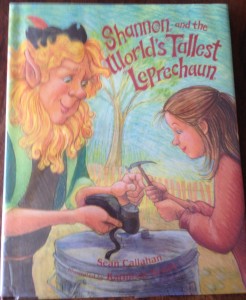 10.    Shannon and the World's Tallest Leprechaun by Sean Callahan Illustrated by Kathleen Kemly (Albert Whitman & Company)
This is an Irish-American story with less magic and more message – hard work and practice pay off and you can't judge by appearances, how can you resist that double whammy?  All it needs to be a better read aloud is a pronunciation guide for the gaelic counting.  I make it up and someday someone will know better.  It is a fun story with easy to see, colorful illustrations.  It is a happy, optimistic, story, and did I mention that hard work pays off?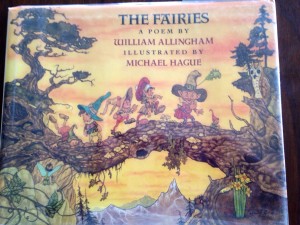 Bonus 11.   The Fairies  A Poem by William Allingham illustrated by Michael Hague (Henry Holt and Company)
This old poem is a wonderful read aloud with qualifications.  If your listeners can handle the more traditional fairy tales where people die and wicked step-mothers are punished,  try this one.  These little men from an 1850 poem are a tad scary. Michael Hague, though, is one of my favorite illustrators, a contemporary successor to Arthur Rackham, and his mischievous imps and gnarled trees are worth sharing.  Read it a few times and your listeners will see the humor too.  They will crave Peter Pan, Alice in Wonderland, The Reluctant Dragon, and all the other classics Michael Hague has illustrated!
And now to hear about your favorites!  I'm always looking for new titles, so let me know what to look for in great fairy read-alouds!