I just read this morning in Publisher's Weekly about a new book coming out on William Mulholland, the hubris and genius behind the Owens Valley Aqueduct, the growth of Los Angeles, and of course that horrible St Francis Dam disaster.  Plenty has been written about him already, but I'm sure I'll bring some of these new titles into the store, because who can resist trying to understand that  personality and that chunk of major history?  Here though, I'd like to focus on what has already been written about the water wars.  For many people, these books are old news, because, obviously, they are old!  But I think it is a used book store's job to remind us all of the good things already written and keep them fresh in mind.  Some titles are out of print and we may have to search for them, but we are happy to do that.  This will undoubtedly be a summer and maybe a decade of more water wars, so I think it is a good time to look back at a few places we've been, and the water gone under the bridge so to speak.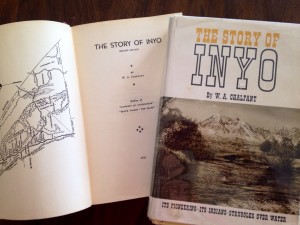 At the top of the list is of course The Story of Inyo by newspaper founder W.A. Chalfant.  Like the best journalists, Chalfant always found the angle that made a story compelling, interesting, and sometimes amusing.  Much of The Story of Inyo is about Paiute residents of the valley and early pioneer/Pauite conflicts (yes from a white perspective of the time), but the accounts of the early government and private maneuvering that made the Aqueduct possible are invaluable.  The first edition was published in 1922, so a lot of water war history was yet to happen, but this book is essential Owens Valley reading.  First and second editions are pricey, especially if signed, but there are many later editions and paperbacks available.  A reprint edition came out in 2012, and is readily available.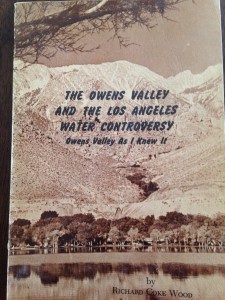 One of my favorites is The Owens Valley and the Los Angeles Water Controversy – Owens Valley As I Knew It by Richard Coke Wood.  This small paperback was written by Dr. Wood as his thesis in the mid-30's, at a desk at the Inyo Register under the watchful eye of W.A. Chalfant, so there is some similarity there.  Paperback copies were printed and distributed by Chalfant Press in the 1970's (also a drought period, remember?). Many photo credits go to Curtis Phillips, founder of our next door neighbor store, Phillips Camera House.  Dr. Wood went on to be a history professor at the University of the Pacific and wrote a number of history books on the Sierra.  This is a readable, concise account of the aqueduct history, and it is still pretty easy to find.  I have only seen the Chalfant Press edition, and I am not aware of any others.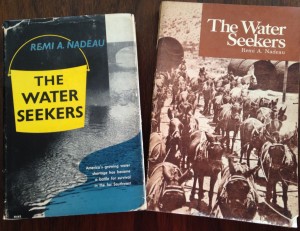 The Water Seekers by Remi A. Nadeau was available new until quite recently.  Mr. Nadeau called me from Southern California to sell me copies when I first bought the store, but I don't think he is still directly marketing his many history books.  Nadeau's grandfather and namesake was an early emigrant to Los Angeles and a teamster/freighter to the early mining camps, so his Los Angeles roots are quite deep. I believe he had family who worked on the aqueduct too, but I need to check my sources on that.  He takes a broader view of acquiring water for the growing Los Angeles, including the Colorado River and other sources as well as the Owens Valley, and he extensively researched the Department of Water and Power files as well as Mr. Mulholland's personal scrapbook.  The Water Seekers was first published in 1950, and also republished and distributed by Chalfant Press in the 1970's.  It is a readable and fascinating story, with an understandable bias that is as much a part of the historical record as the court cases.  Don't pass it up!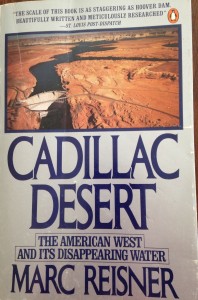 For more current histories, if you have not yet read Cadillac Desert, The American West and Its Disappearing Water by Marc Reisner, get it into the To-Be-Read-Right-Away line up.  There is a movie version too.  It covers many water projects in the Western States besides the Owens Valley, and it is conveniently still in print and fast, compelling reading.  Another popular and thorough choice is Water and Power: The Conflict over Los Angeles Water Supply in the Owens Valley  by William Kahrl  (1983) (on my To-Be-Read pile still)  It is my dad's and many other local historians' favorite.  Also add  the comprehensive and very scholarly   Western Times and Water Wars: State, Culture, and Rebellion in California  by John Walton (1993) for an amazing analysis of the big picture, and the more forward looking Drowning the Dream: California's Water Choices at the Millennium (2000) by our local author David Carle.  Carle's insights include analysis of more recent history at Mono Lake and offers thoughts on the political decisions inevitably coming soon.
I would love to hear about your favorites in regional history and the water wars. I always try to stay stocked up with used copies, but they sell quickly, so let us know what you are looking for. Please leave a comment, call, or shoot us an email.  Don't forget that Laws Museum, Manzanar, and the Eastern California Museum all have great selections of  local history books, plus great exhibits!