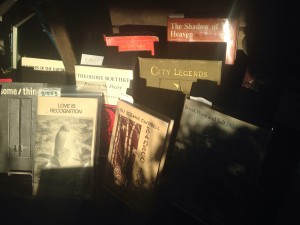 We're celebrating National Poetry Month here at Range and River Books. Come check out our eclectic collection of new and old poetry books. How about: Harp Strings – Swept by Many Hands, Hollywood Anthology of Verse, edited by Emmy Matt Rush, 1930 First Edition, #578; A.D. Twenty-One Hundred: A Narrative of Space by John Williams Andrews with a foreword by Walter Cronkite; or Winning Hearts & Minds: War Poems by Vietnam Veterans from 1st Casualty Press, June 1972. Also on our shelf Theodore Roethke: Essays on the Poetry edited by Arnold Stein, and poemcrazy: freeing your life with words by Susan G. Wooldridge.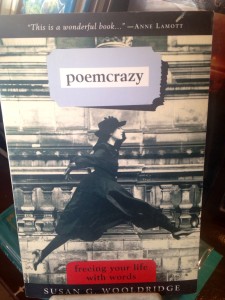 If you are a poet, are considering writing poetry, or just enjoy hearing it read aloud, we will be having a poetry reading on the theme of Earth Day, Thursday, April 23 beginning at 6:30 p.m. Local poets are invited to submit up to four original poems by Thursday, 4/16 at 5 p.m. for consideration. Up to 3 poems for each poet may be selected for the reading on the 23rd. Poems may be submitted via email to info@rangeandriverbooks.com or at store, 206 N. Main Street. Any questions, call 760.873.6882. We look forward to seeing you. This event is aimed at adults and high school aged youth.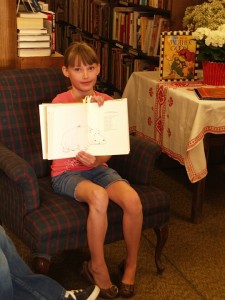 For the younger poets, we'll celebrate Popcorn and Poetry Day on Saturday, April 25 from 4:30 to 6:30. This is a very informal event, and children of all ages may bring an original or another favorite poem or two to read out loud to the gathered group. Popcorn will of course be available too!
Here are some other ways you might want to celebrate National Poetry Month: