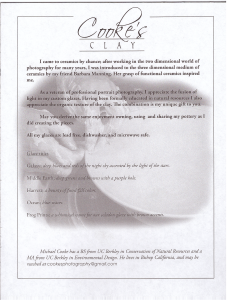 Good news!  We now have pottery from the talented local artist Michael Cooke for sale in the store!  Currently there are mugs, cereal bowls and flatter salad bowls in both the Harvest, Galaxy and Ocean glaze designs.
Michael Cooke is a professional photographer in the Eastern Sierra well known for gorgeous wedding photography with his wife Diana, and natural setting family photos.  His education in natural resources influences both his photography and his appreciation for the organic texture of the clay. The clay, he says, is his hobby, but clearly he puts a lot of energy, creativity, and talent into this pastime. Plus, they are lead free, dishwasher and microwave safe, so very practical and functional as well.  A mug would be a lovely gift for a graduate, or fill a bowl with brownies for dad on Father's Day!
You can see more of Michael Cooke's work on his Facebook page or website.
www.facebook.com/cookesphotography
http://cookesphotography3.blogspot.com/