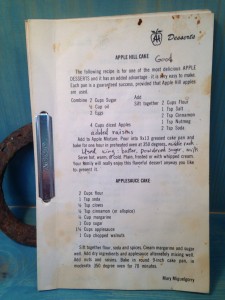 How do you tell if a cookbook has great recipes?  Well with a used cookbook, there is a surefire clue – look for the splattered pages!  Those spaghetti sauce or chocolate smudged pages are usually a giveaway for the family favorites.
Some customers appreciate those "dirty" paged classics, others are understandably put  off by someone else's food remnants.  We wash the covers of all books coming into the store, but the smudgy pages have to stay that way.  Don't worry, we have plenty of both categories on the shelves!
Another favorite method for picking out a potentially great recipe is looking for the recipe contributor.  You know, the little tag lines on each recipe, especially community cookbooks or the Taste of Home publications, that give the recipe's contributor and sometimes where she is from.  Courtney's mom, Desi, and I were just thumbing through a new arrival stack of Bishop Community Cookbooks with many familiar names in them.  Desi  had personal tasting experience for more than one recipe!  (The BEST brownie recipe is in the Palisade Glacier Chapter of the Daughters of the American Revolution Cookbook, 1961 just so you know)
Whether you know the recipe source or just think that someone named Myrna should know how to can piccalilli, you should really check out this stack of new local cookbooks.  Rebekah Lodge, Neighborhood Church, the ever popular Mammoth Hospital Auxiliary, the Calico Quilters, and many more show up in this batch.  Cover art by Ernest Kinney graces the Lady Bill's home made creation.  Do we still have the Lady Bills? Kitschy and fun as well as tasty, come check out the clean and spattered pages on family favorites from your friends and neighbors, or maybe your neighbors' grandmas!