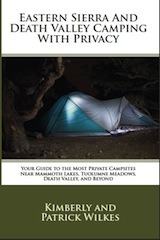 This Book Signing has it all – get ready for a list!  We are celebrating the release of Eastern Sierra and Death Valley Camping with Privacy by the Gardnerville, Nevada team of Kimberly and Patrick Wilkes.  If, like most of us, your camping opportunities are too few to waste on a lousy experience, this book is the research tool you need!  Kimberly and Patrick thoroughly researched hundreds of campgrounds in our region, rating the privacy, listing fun things to do nearby, passing on warnings, and describing how to get there and how to get your spot.  All campers will want this book, and signed would make it the perfect gift!  Call to reserve a copy.
And here is the "plus":
Local interest book – thorough descriptions and privacy ratings for over 3,400 campsites in the Eastern Sierra and Death Valley
Door Prizes – Including gifts from Upper Crust Pizza, Anne Marie's Home Boutique, Range & River Books and framed art by photographer Patrick Wilkes.  Yowza, right?
Cookies from Great Basin Bakery and S'mores bars of course!  Plus other treats.
S'mores kit prize to the FIRST purchaser of the Guide Book
Meet the Author and Photographer, husband and wife team of Kimberly and Patrick Wilkes, and have them sign your copy.  Would make a great personalized holiday gift!
Professional digital portraits by Patrick for the first 20 individuals or family groups that attend the book signing.
And a really big PLUS – the Wilkes are donating a portion of each book sale to the non profit Eastern Sierra Land Trust.  The local land trust works with willing land owners to preserve vital lands in the Eastern Sierra for the scenic, agricultural, historical, watershed, or natural values.  These funds will go to good use furthering the preservation of the vital lands we all love!
Join us Saturday, October 17 from 3:00 to 5:00 for this event!