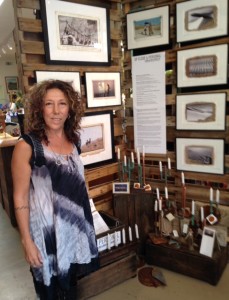 If you missed the 2015 Chocolate Art Walk last weekend, you did miss out.  BUT, we are excited to say that we will be keeping Judyth Greenburgh's photography and sculptural display up for awhile longer, so come on in!  We have prints and candlesticks available for sale, and more are available to order.
Judyth Greenburgh lives part of the year in Darwin, and is very active in the Southern Inyo community, including working on the board of the Owens Valley Growers' Cooperative (http://www.owensvalleygrowerscooperative.com).  Her background is in graphic design and   The art in our exhibit takes, as she says, the ordinary views in Darwin and the surrounding desert, and shows the extraordinary.  Greenburgh is an award-winning photographer, creative director and artist who has influenced elections, changed opinions, made us think, and delighted our hearts. She has over 30 years experience in premium brand development and design for a grand array of projects in different parts of the world.
I love having them up in the store and I am growing constantly more attached to them, and, well honestly, it makes me smile that we are exhibiting a photo also on display at the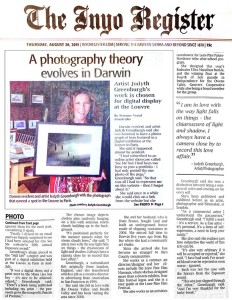 Louvre, as recently featured in the Inyo Register!  She also has exhibited at the Victoria & Albert Museum in London.
You can find out more about her work here: http://www.copperattractions.com/ and here: http://www.jgreenburgh.com
Here's some comments she provided about her work and the inspiration.
A little more information about my art – by Judyth Greenburgh
Darwin is like a blank canvas. There is no clutter to cloud the skies or pollute your mind, no stores, no paved roads or cops. You are exposed to the elements and yourself. Here, there is nowhere to hide and nothing to distract you.
Darwin is the perfect place to invent, re-invent and live in the now.
Things get dumped in the desert, Cars, trains, Boeing 747's , eccentric people, condensed milk cans, bombs and radio active waste.  It's a place where the past has been left behind, yet to be covered by changing times
This show is a selection of different perspectives.
Photography: When I have a camera in my hand, I notice more.
I slow down enough to see the details and the beauty there.
What looks ordinary can be pretty extraordinary on closer inspection.
There's beauty in everything. It's my meditation practice – the art of being here
     Notes from the Edge: shows a few pages from a calendar I made about Darwin.
     Sandwiches: reflects my appreciation of the Eureka sand dunes.
     Darwin Details shows just how extraordinary the ordinary can be.
12 Frames is my showcasing system . I show in series of 12's and print a limited edition of 12 numbered giclees. Only 12 of the prints get numbered. This is validated with a certificate of authenticity. These are normally on acid free archival cotton rag paper. 'So this is art is it?' Anything hand made or printed by me, I also emboss or stamp with a seal.
D.U.M.P: Discovering Unwanted Metal Pieces
Imagine a Post Apocalypse world. A place where trash becomes treasure.
Darwin was a mining town. There are fields of 'can dumps'. Where the miners threw away their canned goods.
Over time they have become dented and rusted.  I was intrigued by the oxidation of time. How metal rusts, copper patinas.
The juxtaposition of shine with rust/ patina. How this layer transforms common trash into something worth considering,
The Can Panels: reclaims what has been abandoned.
Inspired by the scalability of the repetitive form I made short movie and re created the sea of abandoned tin cans as panels that can be hung individually or together.
What's with the shiny can? The shiny can comes from the short film I made. In the film – a can of Natural Ice is crushed and tossed onto a pile of rusty old cans … the new kid on the block. This has become the signature of each piece.  A dvd of the film is available & given with every art piece bought
Yes you can.  What if you could bottle a positive permission and sprinkle it to activate?  Each bottle contains the dust from a whole lot of cans and is labeled with a positive 'CAN' intention
 COPPER ATTRACTIONS are candlesticks with a magnetic twist. Exploring the shine and oxidation of pure copper, plumbing fittings adding magnetic ends, enabling them to defy gravity and balance in places not normally possible.
More copper, magnetic art can be seen on my website.  www.copperattractions.com