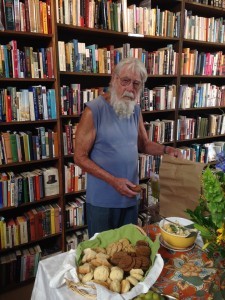 Bob Miller's family has generously set up a Memorial Scholarship for a Bishop High senior pursuing an education in the arts.  The application will be available through the BUHS Guidance Office with the local scholarships, and due on April 15.  The award will be $1,000.  Seniors, if you haven't already done so, please contact the Guidance Office for an application.
I always admire individuals who are disciplined independent students, learning languages, skills, or philosophy through their own research and organized reading.  Bob was certainly my ultimate role model, from his own high school days challenging his English teachers who hadn't read the classics as he had, to organizing the architect licensing school,  to his last days ordering books from me on metallurgy so he could understand silver plating.  Honoring Bob's phenomenal dedication to self education  as well as his joy in mentoring young artists, the application states:
Bob did not have a college degree but he was extremely well educated through his lifelong, self education on many topics. Consequently, our ideal recipient would be a more independent pursuer of their education…one who steps out of the box, who may or may not have the highest grades, but is strongly self motivated.
I know that the recipient will be blessed by this legacy from Bob and his family, and I am grateful for their effort.  Remember that proceeds from the sale of his art will continue to help this scholarship fund.