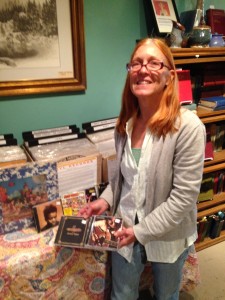 Jill has been busy sorting and buying used CDs for us the past few days.  Here's her note on the great new selection!
We recently acquired a good selection of music CDs for those who still use this format for music enjoyment. There are a variety of artists represented, from classic rock/pop groups to blues artists to more edgy alt-rock. Some of the artists available are:
The Bangles – Glitter Years: Rarities & Gems
Fleetwood Mac – The Dance
The Best of Cowboy Junkies
Michael Jackson – Thriller
Eurythmics – Ultimate Collection
Tori Amos – Professional Widow
Buffalo Springfield – Last Time Around
T Bone Burnett – Twenty Twenty: The Essential
Tom Petty – Full Moon Fever
Simon & Garfunkel – Bookends
George Thorogood & the Destroyers – The Best of
The Rolling Stones – Jump Back: The Best of
Cheech Y Chong – Los Cochinos
Joan Jett & the Blackhearts – pure and simple
Toots & the Maytals – The Very Best of
The Pretenders
Frank Zappa – Strictly Commercial: The Best of
Tracy Chapman
Sting – Brand New Day
Natalie Merchant – Tigerlily
Ray LaMontagne and the Pariah Dogs – God Willin' & the Creek Don't Rise
Kate Bush – The Sensual World
Jefferson Airplane – The Worst of
John Lennon – Imagine
John Lennon – Acoustic
Big Brother & the Holding Company – Cheap Thrills
The Monkees
One Love Tribute to Bob Marley
Dixie Chicks – Wide Open Spaces
Robbie Robertson – From the Underworld of Redboy
Bonnie Raitt – Nick of Time
Bonnie Raitt – Luck of the Draw
Saffire-the Uppity Blues Women – Old, New, Borrowed, & Blue
Frank Sinatra – His Great Performances 1953-1960Come in and check out the music.
We have some great classic vinyl for sale too! And don't forget books about musicians and music groups or genres.