So excited to present the Romance Cover Contestants for the year!  We've gone with a romantic Bride theme because… well because there are some great ones! It may also be an "Awkward Pose" theme, but that is for you to decide.  To participate in this titillating contest, all you have to do is select your favorite cover and cast your vote (daily if you want)  here in comments, in person in the store, or by email.
We don't judge, or make any rules about what constitutes a favorite cover.  These doozies get picked for their eye roll quality, beauty, actual romantic quality, silliness…you get the idea. Interestingly, four of the five are from the 2010's, proving that bodice rippers endure.
We will tally the votes at the end of the month to declare the official People's Choice winner, and then draw some winners from the voters to receive RRB Gift Certificates.  Don't you wish national elections were this much fun?
Here are the 2017 Contestants:
#1  To Marry a Scottish Laird by Lynsay Sands  (2014)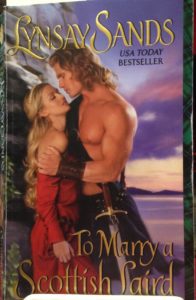 Highlanders like pirates are a favorite for covers, I guess it is the kilts?  Or Swords?  This swooning princess has found herself a Laird who is going to catch pneumonia in the chilly Highlands.
#2  The Earl Claims His Wife  by Cathy Maxwell (2010)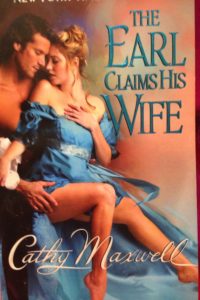 Well isn't this blue dress pretty?  What more needs to be said?
#3  Winning the Widow's Heart by Sherri Shackelford  (2012)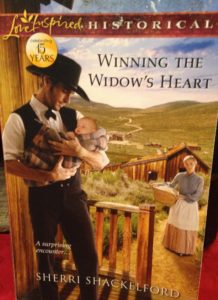 Is it holding the baby, or watching her do laundry in Bodie that will capture this poor woman's lonely heart?  Read on to find out! He is clearly a very sweet man, taking time out from playing poker to hold this cherub.
(This is a fully clothed option for all of you that turn shades of pink looking at the others.)
#4  Wyoming Bride  by Joan Johnston (2013)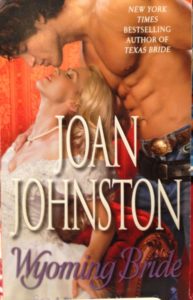 Author Joan Johnston has been in the line up before with her spicy Cowboy covers.  I think this is also a contender for "most awkward pose".  I'm also amazed that he wore his gun belt for the wedding, clearly he had a lot of protecting to do, and hoping he loses it before things go any further….just dangerous.
#5  Mountain Rose  by Norah Hess  (1993)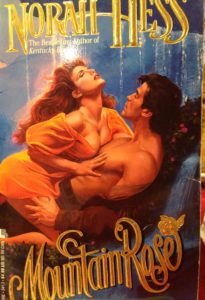 Not yet a bride in this cover art, but the hero Chase Donlin's niece…wait, what?  Hmmm,  clearly there is more to this story .  This couple is in the mountains on a trapping expedition that appears to get steamy.  An early voter already declared this the most "expressive" contestant.  I just hope it is not his niece.