There isn't much produce to be had in the Owens Valley this summer. A late April frost wiped out most of the fruit tree blossoms, and due to a long cool spring, gardens got planted late. Regardless, Diane, dedicated gardener and owner of East Side Books, is up to her ears in zucchini. So much so that she is sharing bagfuls with her staff at the bookstore.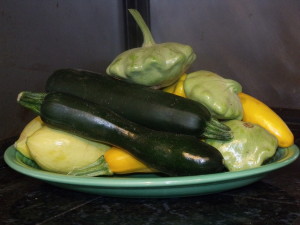 This unexpected bounty of zucchini had me running for the Cookbook Section. After all, there is only so much fried zucchini, the only recipe I know for squash, that one can eat. Luckily, East Side Books has a number of excellent sources for zucchini recipes. For example, Jeff Smith, former PBS cooking master, includes recipes for Cold Zucchini Soup and Zucchini Quiche in his book The Frugal Gourmet Whole Family Cookbook. I have never misfired with a recipe by Smith and use his cookbooks often. (East Side Books has a number of his cookbooks, including a not-to-be-missed The Frugal Gourmet Celebrates Christmas.)
A number of cookbooks in our Italian Cooking Section includes zucchini recipes. An especially beautiful cookbook on this shelf is Lidia's Family Table by Lidia Matticchio Bastianich. She features squash recipes such as zucchini lasagna and zucchini white bean soup as well as lots of photos.
But I really hit the mother lode of zucchini recipes when I moved over our excellent Vegetarian Section. The cookbook American Vegetable Recipes put out by the Farm Journal had sixteen zucchini recipes listed in their index. I was hungry after scanning the cooking instructions for Zucchini Corn Bake and Zucchini Casserole with Sour Cream.
While main and side dishes featuring zucchini are well and good, I found myself most interested in the zucchini desserts.  A zucchini is a vegetable, right? So, I figure adding a vegetable to a dessert automatically turns a treat into a healthy snack.  Are you following my logic?
Regardless, after perusing a number of excellent cookbooks on our shelves, one being a 1960 edition of the Fanny Farmer Cookbook, I cobbled together enough information to figure out how to make a zucchini cake. I added applesauce, allspice, cinnamon, and chopped dried dates to give my zucchini a little twist. An hour later, my family was enjoying a moist, flavorful, and healthful treat. Just to make sure that the zucchini cake was as good as it seemed, and to meet my vegetable quota for the day, I ate about half the pan myself.
Healthful Zucchini Date Cake
1/2 cup oil
1/2 cup applesauce
3/4 cup brown sugar
1 cup white sugar
3 eggs
2 tsp vanilla
2 cups flour (I used 1 c. wheat and 1 c. white flour)
1 tsp. baking soda
1/2 tsp baking powder
2 tsp. cinnamon
1/2 tsp. allspice
pinch of salt
3/4 c. chopped dried dates
2 cups grated zucchini
cinnamon sugar mixture
Mix oil, applesauce, and sugars. Add eggs and vanilla, and beat well. Mix in dates, spices, soda, salt, and baking powder. Alternate flour and zucchini, mixing well after each addition. Pour into greased and floured13x9x2 inch pan. Sprinkle with cinnamon sugar. Bake at 350 degrees for 50 minutes or so.
Encouraged by my zucchini cake success, I tried my hand at zucchini cookies. With the addition of raisins, these tasty treats are sweet enough to appeal to my children yet healthy enough to send to school for their morning snack.
Zucchini Cookie Treats
1/2 cup butter, melted
1 cup brown sugar
1 egg
1 cup grated zucchini
2 cups flour (I used 1 c. wheat and 1 c. white flour)
1 tsp. baking soda
1/2 tsp. salt
1 tsp. cinnamon
1/2 tsp. cloves
1 cup raisins
Cream together butter and sugar.  Add egg. Mix well. Add zucchini. Mix in the dry ingredients. Stir in raisins. Drop by teaspoonfuls on a greased cookie sheet. Bake at 375 degrees for 8 to 10 minutes.
The zucchini on my counter has dwindled to one small squash. I am hoping Diane comes in soon with another load.  In the meantime, I am thinking about trying out a Zucchini Latka recipe I spied in one of the cookbooks at East Side Books.
What are you doing with all your zucchini? We'd love to know. Post your favorite recipe in the Comments section below. If you are searching for new squash recipes, or any other recipes, drop into East Side Books and check out our great cookbook selection.  You are sure to find a recipe that makes you want to run home and fire up your oven.
As always, if you need any help, please ask one of our staff for assistance.