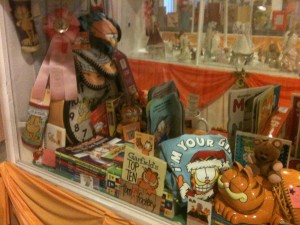 Thirteen year old Ben has been collecting Garfield books and other memorabilia for at least seven years that I know of, since that is how long he's been scouting the East Side shelves for treasures and placing special orders for out-of-print rarities.  This year at the Tri-County Fair, Ben stuffed "most" of his collection into a large glass display case, overpowering the typical Junior Collections category of Beanie Babies or Legos by the hundred-fold. It is a display worth a trip to the Douglas Robinson Building, and of course we hope you go there anyway to support the many 4H and Junior exhibitors from Inyo, Mono and Alpine Counties.  Ben's grandma testified that he spent four hours assembling this creative and colorful tribute to the lasagne loving cat.  Not that Garfield needs an ego boost, but this would do it if he did Ben!
You will also want to check out the Junior art categories further back in the Douglas Robinson.  Ben is an incredibly talented, and published, cartoonist and illustrator, and you can see some of his work entered here.  His brother Xan is also artistically gifted, so watch for his creative pieces as well.
Such fun to see talented kids like these growing up at the store!
Apologies for the poor quality photos from my phone camera, just plan on going to see the real thing for yourself!