I think I've said before that if a new bookseller wants to do his or her job well, he or  she'd better study up on the mystery authors.  Every day I have customers saying they "need to find a new author, I've read all of my favorite author's books".  So…. who to recommend?  There are so many "subgenres" in mystery and suspense it can feel impossible to hit on a winner!
Quite a few readers, including me, enjoy a mystery that immerses you in a region or time period, whether it is Cadfael's medieval monastery or even Stephanie Plum's New Jersey.  A good mystery series involves the reader in the lives of a cast of interesting characters, one of which has to be the location. When it comes to mysteries set in the West though, I have a love-hate issue:  I love the location but can really be unnerved by the number of murders taking place somewhere that could be MY home.  Really people, if you have 6 grisly murders occurring every month, move away already!  Trenton, New Jersey, or London are one thing, but rural Montana, Window Rock, Arizona,  Absaroka County,  Wyoming, or  Niniltna, Alaska…. you don't have the population for that kind of mayhem!  Or, don't take your murder mysteries too seriously I suppose.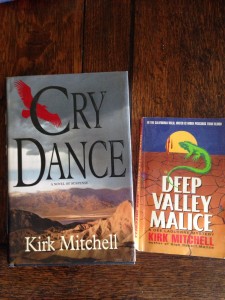 If you can stomach murder mysteries in your own backyard, the spectacular scenery and isolation of the Eastern Sierra provides the backdrop for a number of authors I like to recommend.  Although not easy to find, Kirk Mitchell is at the top of the list.  Mitchell worked for law enforcement on the reservations of the Owens Valley for a time and has authored a number of mysteries as well as science fiction, alternate history, and movie novelizations.  Four  books are particularly close to home, the Dee Laguerre series featuring a Basque heritage BLM ranger who takes on range wars and green guerillas in High Desert Malice and our own Owens Valley water war in Deep Valley Malice.  His first "local" book though was, Black Dragon from 1988.  It is set in Manzanar during the Japanese internment, and a more recent mystery, Under the Killer Sun, is set in Death Valley with a Shoshone heritage investigator.  (I haven't read that one yet!).  Mitchell's Emmett Parker (Comanche) and Anna Turnipseed (Modoc) series is also very good, frequently compared to Tony Hillerman in that the novels rely on Native American culture and settings.  Mitchell's mysteries have plenty of action and bloody detail as well as the cultural aspects, to satisfy all but the "cozy mystery" lovers.
If you are interested in Mitchell's mysteries, let us put your name on the Wants List or special order them, because they don't last on the shelf!
Along with Sara Paretsky and Sue Grafton, Marcia Muller brought to life the scrappy female private investigator genre.  Her Sharon McCone series is set mostly in San Francisco, but P.I. McCone finds her way to the East Side every so often, particularly in the 1991 mystery Where Echoes Live.  McCone spends a season next to a Mono Lake look-alike, Tufa Lake,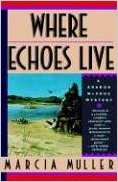 investigating a corpse in the lake, a Nevada mining company bent on destroying the environment,  and a new murder every week or so….not the best thought while enjoying your Frosty Cone in Lee Vining.  McCone's love interest with a local continues in the series, so the ties to Mono Lake country do as well.  It is a fun series with a strong, smart, and politically active woman character, well worth reading.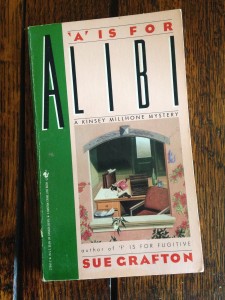 Sue Grafton 's female P.I., Kinsey Milhone, barely needs an  introduction since her "alphabet" mystery series is so well known.  If you haven't read it though, you will enjoy Milhone's foray into the Eastern Sierra in N is for Noose if for no other reason than to see how Mammoth Lakes, Bishop, Independence, Mono Lake and the other landmarks get tossed and jumbled together in this story!  While this mystery did not get the critical acclaim of other Milhone adventures, you will also enjoy Grafton's humor and the plot twists that get her back to her home turf in Santa Teresa (Santa Barbara).  The "good ol' boy network" may resonate or be an irritating stereotype, so…you've been warned. Kinsey Milhone is addictive (X comes out in August!) and a perfect, quick summer read.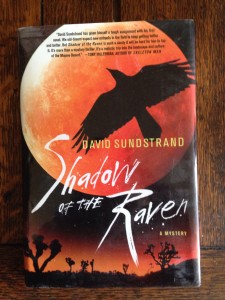 An almost local author, David Sundstrand from Reno, Nevada, has clearly spent a lot of time in the Eastern Sierra, traveling up and down Highway 395.  He only has two books published so far, but the locations range from Randsburg to Topaz Lake.  Frank Flynn, protagonist and BLM investigator, melds the cultural heritage of the desert in his DNA with Irish, Paiute, and Mexican ancestry.  All contribute to his unique ability to solve grisly crimes in, quite literally, our backyard, usually involving poaching or some other resource damaging behavior as well.  These mysteries are page turners, on the bloodier side of the mystery novel spectrum, and other than a remarkable ability to travel really long distances in an eyeblink, (a trait shared by other authors writing about the West, even Tony Hillerman –  who wants to read about a six hour car ride to get back to headquarters anyway?) they are a good read.  Believe me, you will remember these stories when you pass some more colorful (or eccentric) homesteads and watering holes on Highway 395. Sundstrand clearly appreciates the unique characters of desert communities, and that is not something you read every day.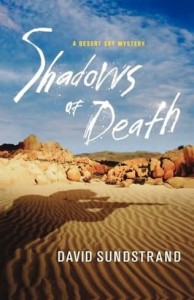 Since I am continually looking for interesting mystery authors to read and recommend,  please let me know if you have other authors to add to this list!  I know we also have several local self-published authors with mysteries to their credit,  so send me a review if you are familiar with any of them.  I'm sure someone has done psychological research into why we are so fascinated by murder and crime, but with these regional settings you can always claim you read them for the scenery.  And we don't judge, read what you like.