Wow!  I think it was our best turnout ever for the ghost stories!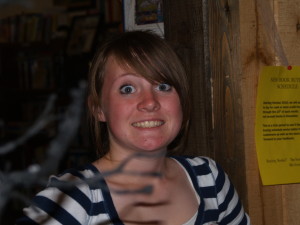 And the little hobgoblins were all very excited!  I hope they are associating all that excitement with the fun of reading wonderful stories…. but it may have been the little donuts.  That's okay too, donuts go with Halloween in my book.
I want to especially thank all my wonderfully patient staff and our extended families, getting a party together is a little crazy even without the scattered mindset of a key organizer (me).  Galen Busby commendably handled the headless crafts with grace and good humor, Katie coordinated the pumpkin guts (in the darkest corner) without complaint, Lindsey managed the nine-pins game and prize delivery with fairness and a sense of fun (okay someone tell me they got the association with playing ninepins and Washington Irving?).  Mary helped the next day with the clean up aftermath. Connor Busby squeezed in some time to help between sports practice and homework as well as installing flyers all over town; Matt, Lindsey and Katie helped engineer and install the spooky Sleepy Hollow trees, etc; Kim with her usual smoothness kept everything flowing, the food replenished, and the books sold (with flashlight in hand to see prices); and my husband (bless him)  put up with me, took pictures, and policed the fog and candles. 
Here are a few pictures – okay the pictures ended up at the top, with many pictures of big eyed Katie.    And how did Galen get sideways?   Sorry folks, I can't fix it.  Obviously not the techno wizard of East Side Books, but that is not news. 
Hope you all had fun, and we'll see you for the next story time….hot chocolate and Christmas stories maybe?
Diane