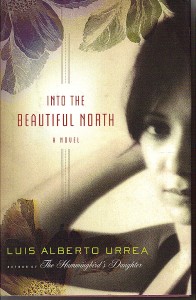 The Inyo County Superintendent of Schools has chosen Into the Beautiful North by Luis Alberto Urrea as the 2013 Community Reads book of the year.  We have several new copies available now for a discounted price, (remember store credit can't be used on new books), and we are working on acquiring some used copies as well.  This book was chosen "to celebrate the Latino community of Inyo County."
Urrea is also the author of The Hummingbird's Daughter, a beautifully written, critically acclaimed story of a magical young woman in Mexico.  Into the Beautiful North is also set in Mexico, but of a more contemporary young woman from a remote village who is determined to cross the border into the US to recruit men back to her town before it is overrun by drug dealers
The county wide activities feature some fun sounding cooking classes and a showing of the Magnificent Seven movie featured in the book, as well as a visit from the author himself on March 11.  More information is available from the Inyo County Office of Education. 
From the author's website: 
Oh, and you pronounce it: oo-RAY-uh.
Check out the author's website and blog at www.luisurrea.com