Don't get me wrong, I love a good party as much as the next person, especially when it's potluck.  Nothing is better than an evening of shared food, stories, and laughter with close friends and new friends-to-be.  And since I love to cook, I am happy to contribute my dish to the mix.  But after receiving an invitation, I have learned to dread the simple phrase: "Oh, can you just bring an appetizer?"  An appetizer.  Always the appetizer.  I have even tried heading off the appetizer request with the preemptive: "Can I bring dessert?  A salad? A vegetable dish?  A main course?"  Anything BUT the appetizer.  And usually the reply is: "Oh, no, just an appetizer."
The problem is that although I have five three-ring binders stuffed with instructions for my favorite dishes, I don't really have any good appetizer recipes up my sleeve.  As far as I am concerned, there are about three options: cheese and crackers, vegetables and hummus, and if you are really running behind schedule, chips and salsa (bought in the refrigerator section not the canned goods shelf).  If you don't coordinate with the others appetizer assignees, you are apt to have a whole lot of hummus on your hands.
I decided that this November, as we head into holiday party season, I was going to tackle this appetizer angst head on.  To do so, I headed to East Side Books, my place to solve all problems big and small.  I was happy to discover that the cookbook section entitled Entertaining has a number of resources to help you and me get out of the appetizer rut.
I started by perusing Good Housekeeping's Perfect Parties from 1971.  It was $1.00 then and is still $1.00 now.  Although it is heavy on the dessert side of entertaining, the long, handwritten inscription on the flyleaf–complete with recommended recipes and pages numbers–is well worth the money.  If you are looking for a new take on spreads and dips, look not further.  This cookbook features seven different recipes for cheese spreads and thirteen dip recipes including "Lusty Italian Dip".  I mean, really, how can a party not be exciting when serving "Lusty Italian Dip" alongside your carrot sticks, celery, and radishes.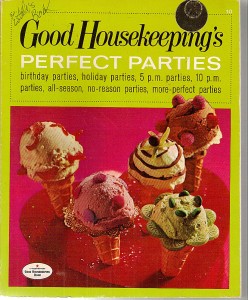 But, if you, like me, wanted to broaden your appetizer horizons past cheese balls and dips, then delve into the next three titles for a creative take on the hors d'oeuvre world.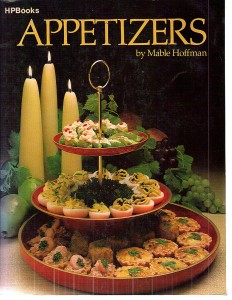 Appetizers by Mabel Hoffman is divided into categories that help make selecting a recipe a snap.  If you are looking to bring a "Poultry Pickup" then you might want to turn to page 52 and consider the "Chicken Dijon Tidbits" or to page 56 for the "Turkey Rounds" recipe.  Hoffman includes a whole chapter on easy (and inexpensive) Pates, Molds, and Spreads for those of you who want a dish you can prepare in advance.  I was interested in the "Cheese Cookie" recipe on page 131, her version of refrigerator log sliced cheese crackers, and her slightly appalling but terribly irresistable recipe for "Corkscrew Noodle Chips".  (Fried and seasoned cooked noodles.  I guess everyone is digging deep when it comes to appetizers.)
Mastercook has put out a book called Appetizers & Aperitifs which devotes half of the volume to recipes for alcoholic and non-alcoholic drinks.  The food recipes seem simple yet unique.  I would consider making "Tiny Cream Puffs" from page 114, only 5 ingredients and 30 minutes cooking time.  I was also drawn to "Mustard Bread" which is described as "French bread slathered in a mustard, poppy seed, onion, and bacon spread, topped with Swiss cheese and baked or grilled in foil."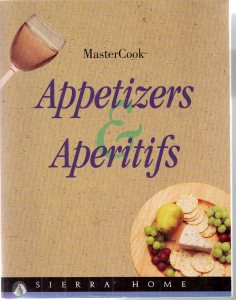 The most serious of the appetizer cookbooks appeared to be The Hors D'Oeuvre Book by Coralie Castle.  This thick volume has everything from "Crab Melba" to "Terrine of Salmon" to "Potted Brie with Cognac and Almonds".  If you want to get really serious about your appetizers and are aiming to impress, this is the book for you.  I have to admit that the "Gorgonzola Canapes" on page 7 were calling my name.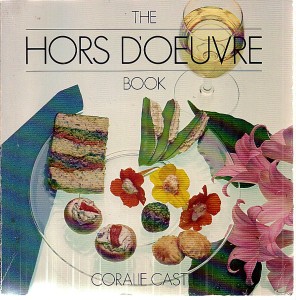 Of course, you can find an appetizer chapter in many general or regional cookbooks.  I picked up a copy of The Deaf Smith Country Cookbook by Marjorie Winn Ford, Susan Hillyard, and Mary Faulk Koock from our Vegetarian section and was immediately interested in the recipe for "Parmesan Crowns" on page 30.  Our shelves are loaded with cookbooks of amazing variety.  If you are eating low carb, check out our many low carb cookbooks for appetizers that work within your diet.  We have a number of Italian and Chinese cookbooks that have excellent appetizer sections.  And as always, we are happy to help if you need assistance finding what you are looking for.
I don't know about you, but I am feeling hungry and inspired.  I think I just might throw a party and all of you are invited.  All you need to bring is…just an appetizer.