We have some doozies to choose from this year!
Our annual Romance Cover Contest is here.  All you have to do is pick your "favorite" cover from the five selections we've set aside for the year.  We'll tally the results at the end of February so everyone can appreciate the twisted tastes of your neighbors, plus we'll draw a lucky entry to win a $25 gift certificate! You can enter online with an email or comment below too!  One vote per day is the only stipulation.
It is always hard to select five from the many entertaining cover art examples, so this year we opted for the pink dress choices.  Well four pink dresses and one pink plaid shirt.  Here they are…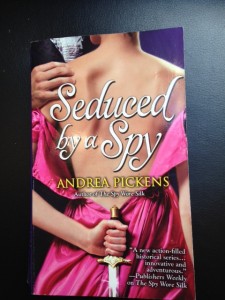 #1:     Seduced By A Spy ( Andrea Pickens, 2008)  Her pink dress is clearly about to hit the floor, so it won't be hiding that big sword any more!  The heroine needs to eliminate the wicked Russian assassin/spy, but I guess we can assume that doesn't happen…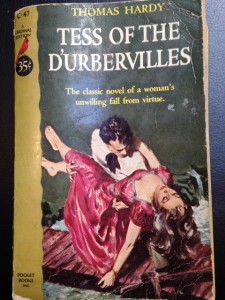 #2:     Tess of the D'Urbervilles (Thomas Hardy, 1952 Cardinal edition)  Now here is a literary classic with an extra lurid, 1950's cover, including the pink dress notice.  Plus bare feet.  "the classic novel of a woman's unwilling fall from virtue."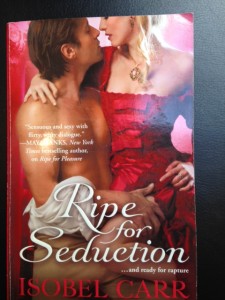 #3     Ripe for Seduction (Isobel Carr, 2012)  This is one of a "Ripe for…" Trilogy, so yes, I did pick this for the title, and the pink dress.  Poor Lady Olivia has to deal with an indecent offer from the incorrigible Roland Devere, and you can see where that led.  This may be the steamiest book of the batch, (judging by the back cover), but of course you don't have to read the book!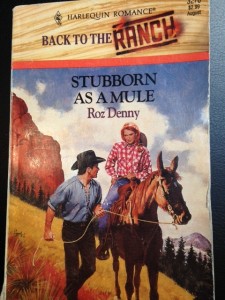 #4     Stubborn as a Mule (Roz Denny, 1993)  First let me say, that I'm glad to hear that stubborn is considered romantic!  Second, check out that crazy looking mule!  Or Mulho, as one customer already suggested!  This tale takes place in the Sierra town, Jessup, California, and yes the young woman is the mule rancher – maybe it is a local story after all.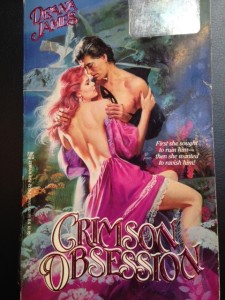 #5     Crimson Obsession (Deana James, 1988)  Admire please, this young heroine's pink hair matches her pink dress, and will hopefully stay on longer!  These 80's covers with the bright color and holograms were just over the top!  And what is going on with his mask?  You know you want to find out!